Should I buy a new or used motorcycle?
Buying a used motorcycle can save you money, but demand and other factors like mileage and condition dictate the bike's price. Buying a new motorcycle will generally be the same price across the country and you won't have to worry about previous accidents or wear and tear.
3 min to read
New vs. used motorcycle: Price, condition, and safety
Pricing and financing
Motorcycles can depreciate as much as 25% in the first two years. Consider how much value you're willing to lose when purchasing a new bike. If you're planning to keep the bike for a long time, depreciation might not matter so much to you.
Financing is another consideration when deciding between a new and used bike. If you have cash in hand and don't need to finance, you'll have much more flexibility whether buying new or used. If you are financing, a used motorcycle will generally have a higher interest rate than a new one.
Condition
Motorcycles are often hobby machines. Owners tend to make modifications by swapping out parts and tuning them up. Crashes are also more common and more damaging to the motorcycle. Buying a used motorcycle means you might be purchasing a bike that's been in an accident and has had significant repairs or modifications.
If you don't mind a motorcycle that isn't in its original condition, buying a used motorcycle can be an easy way to reduce costs. However, if you're worried about long-term damage or expensive repairs down the line, buying new gives you a blank slate. Also consider the climate in which the previous owner stored the bike. Dealers store new motorcycles indoors, away from the elements. You won't know whether a used motorcycle has been left outside or not.
Safety
New motorcycles will have more safety features than older models. If you're concerned about safety while riding, a new motorcycle is often the best option. Newer models have traction control, different riding modes, and more. Many riders want the latest and greatest safety features to compensate for the higher risk.
A newer motorcycle with more safety features may be less expensive to insure than an older model. The cost of motorcycle insurance and maintenance should play into your purchase decision, as both of these are long-term expenses.
New vs. used motorcycles: Pros and cons
A new motorcycle is often a safer bet. However, suppose you know your way around motorcycles. In that case, you can diagnose potential problems or repair them yourself, which avoids many of the biggest drawbacks to buying used.
Pros and cons of a new motorcycle
Is more expensive to purchase but more fuel-efficient
Is safer
Gives you more knowledge of its condition
Often includes a warranty
Pros and cons of a used motorcycle
Is less expensive to purchase but may need repairs or maintenance
May have issues the seller didn't disclose
Can be more expensive to insure
May not have a warranty
Take the time to decide what kind of motorcycle you want, how much you can afford to spend, and then look at the market in your area. You might find there is little difference between a new vs. used motorcycle.
How to insure your new or used motorcycle with Progressive
Go online
We'll ask easy questions, then you choose coverages.
Quote motorcycle insurance online
Call us
Talk to a licensed representative who can help you choose the right coverage for you.
Call 1-866-749-7436
Talk to an agent
If you want local advice, we'll connect you with a licensed, independent agent near you.
Find an agent online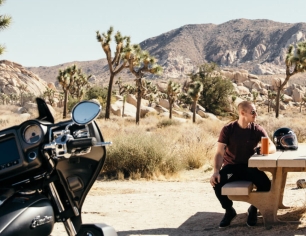 Enjoy life on two wheels with motorcycle insurance from Progressive