What is a touring motorcycle?
Touring motorcycles are a class of motorcycle designed specifically for long-distance motorcycle trips. They generally feature large, powerful engines, cargo space or carriers for luggage, and an upright riding position. Most touring motorcycles also have a generous second seat to carry a passenger over a long distance comfortably. Depending on the model, manufacturers can equip a touring motorbike with comfort features like a car's, such as heated seats, stereos, GPS capability, and airbags.
4 min to read
What are the pros and cons of touring motorcycles?
Touring models are some of the best motorcycles for long-distance travel, but they have drawbacks, too. When shopping for a touring bike, consider the following:
Touring motorcycle pros
Comfortable, ergonomic riding position: A touring motorcycle's neutral riding position is more comfortable over long distances than other styles.

Lots of space for gear: Panniers, hard bags, top boxes, and more are available or come as standard equipment on touring bikes to customize your luggage setup.

Long-range: Touring motorcycles have larger gas tanks than other styles, so you'll stop less often to fill up.

Power and high torque: Touring motorcycles are at home on the highway, so you won't be pushing high RPMs while you cruise.

Visibility: A touring bike's size makes it easy to see and is good for leading a group motorcycle ride or just trying to stay visible to others on the road.
Weight: The size of touring motorcycles makes them much heavier than most other styles.

Less nimble: Touring models may be less maneuverable than other common motorcycle types since they're made for long rides with gentle curves rather than sporty riding.

Fuel efficiency: Due to their size and weight, touring motorbikes often get fewer miles to the gallon than other bikes.

Cost: Bike prices vary considerably by make and model, but some touring models can cost as much as — or more than a car.
Should I buy a touring motorcycle?
A touring motorcycle can make long-distance motorcycle travel more rewarding, but you need to ensure you've got the right one. Think about how long you plan to spend in the saddle each day you travel, how much luggage you'll be bringing with you, what options and upgrades are available, and how easily you can find a qualified mechanic for your bike.
The ultimate test is how it feels to ride, but it isn't always possible to test drive a motorcycle at the dealer or from a private party. If possible, try test riding the motorcycle before you buy and if you need further testing, consider renting a motorcycle like the touring motorcycle model you want for a day or two. Even if you can't take the bike you want for a ride before you buy, you should at least ask to sit on it and see if the seat height, handlebar height, and riding position are comfortable. Sit for at least a few minutes to get a better idea. You're buying a touring motorcycle for long distances, and some comfort and fit issues may not immediately be apparent.
Finally, consider how you'll use the bike most of the time. While touring motorbikes make great travel motorcycles, they aren't always the best choice for other circumstances. For instance, touring motorcycles may not be the best motorcycle for new riders because their weight and power take some experience to handle. Or, if you use a motorcycle to commute or get around the city, you may find bikes with better fuel economy and more agile handling are a better option.
Insuring your touring motorcycle
Most states will require you to have motorcycle liability insurance to legally ride on the road. Learn more about touring motorcycle insurance and our available motorcycle insurance coverages for your cruiser.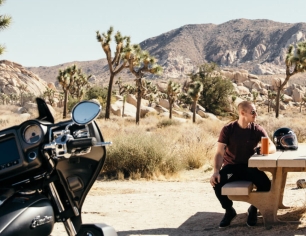 Enjoy life on two wheels with motorcycle insurance from Progressive