Can you test ride a motorcycle?
Most dealerships won't let you test drive a motorcycle the way you'd test drive a car, but some may offer demo days or have dedicated demo bikes. Private parties selling a bike are more likely to let you take a test ride, but not all sellers will allow it. Moreover, it can be challenging to evaluate a motorcycle quickly, especially since riders often have little experience outside of their bike.
3 min to read
Can I test ride a motorcycle at the dealership?
Dealers that allow test rides must carry insurance on the vehicles available for testing. Motorcycle accidents can come with a high cost because riders are more likely to sustain serious injuries, and the bike is liable to sustain more damage than a car. Most dealers don't allow test rides since the insurance coverage required could be prohibitively expensive.
Still, some dealers allow test rides or have a few dedicated test bikes. Those that do will typically go with you on a pre-selected route lasting 10 to 15 minutes.
Can I test ride a motorcycle without a license?
No. A license is required to operate a motorcycle in nearly all states, even just for a test ride. Even if your state didn't require a license to ride, no sensible motorcycle owner or dealer would risk a bike by letting an unpracticed rider in the saddle.
How can I arrange to test ride a motorcycle?
Motorcycle preference is very personal. Knowing whether you want a motorcycle if you can't ride it first can be hard. A typical spin around the block is often inadequate to see if the bike's a good fit for you. For example, test riding a dirt bike on the highway isn't the best way to understand what the bike will feel like off-road. Similarly, test driving a touring motorcycle for 10 minutes doesn't tell you much about what it'll be like on a long day's ride.
Once you've identified the kind of motorcycle you want, your best bet for a proper test is to rent a motorcycle. Consider renting for a few days to see if it's as exciting to ride once you're familiar with it. This will give you a better sense of whether the bike is a good fit for you. Some cities have motorcycle rental agencies similar to rental car agencies. Another option is to join a motorcycle sharing program. Websites and apps like Riders Share and Twisted Road allow you to rent other riders' bikes by the day. Ridesharing can be a great way to test ride and ask questions to an actual owner before you commit to buying a new or used motorcycle.
What to look for when you test ride a motorcycle
Start by tweaking and adjusting the bike to get comfortable. This can include adjustments to the brake levers, mirrors, electronics that offer different driving modes, and more. Before you take off, sit on the bike and note your body position. Is it comfortable? Will it be comfortable on a typical ride?
Once you have set the bike up to your liking, do a mechanical test. Does the engine deliver smooth, linear power? Does the transmission shift smoothly? Do the brakes stop the bike effectively? How do they feel? Do they bite immediately or slow the motorcycle more gradually?
If you're test riding a motorcycle from a private sale, you'll likely have to settle for your first impressions. But if you're renting the bike, take it for a meaningful test run. A day or weekend trip helps assess a touring bike, while a faster ride is appropriate for sports bikes. Use the motorcycle for its intended purpose and see how it makes you feel. Finally, if you have the time and opportunity, leave it in your driveway or garage overnight and do everything again the next day. See if it's still satisfying or if something raises a concern once the novelty has worn off.
Get the right coverage for your motorcycle with Progressive
Current Progressive customers
You can log in or call 1-866-749-7436 to check on your coverages.
New Progressive customers
Quote motorcycle insurance online or call 1-866-749-7436 to insure your bike.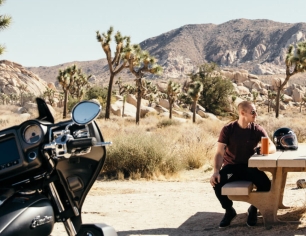 Enjoy life on two wheels with motorcycle insurance from Progressive