What's a rideshare motorcycle program?
A motorcycle sharing service works by connecting bike owners with vetted riders through an online platform. Riders can make a reservation for the motorcycles they want to rent, and owners can earn money by loaning out their bikes. Peer-to-peer motorcycle sharing tends to be less expensive than renting a motorcycle from a brick-and-mortar business.
3 min to read
How does motorcycle sharing work?
Riders who want to check out bikes must meet certain requirements like being over 21 years old, having a valid motorcycle license, and going through a background check. Qualified riders use an online platform to search listings for a specific motorcycle and submit a request to check one out for a specified time. A deposit might be required. If the owner approves the reservation, the rider picks up the bike at a pre-appointed day, time, and place. The rider then returns the motorcycle to the owner when the reservation ends.
What is peer-to-peer motorcycle sharing?
Many owners participating in online ridesharing, like Twisted Road and Riders Share, have bikes they don't use frequently. Rather than letting the motorcycles sit around, motorcycle owners earn money by renting their bikes out to occasional weekend riders. Peer-to-peer motorcycle sharing can be less expensive than going through a traditional rental company, and it's a way to meet fellow enthusiasts, test-ride bikes, and experience riding a motorcycle that would be cost-prohibitive to own, store, and maintain.
Pro tip:
If you don't have the safety gear to ride a motorcycle you've reserved, check with the owner – you may be able to rent or borrow the protection you need.
What are the advantages of motorcycle sharing?
Peer-to-peer motorcycle sharing advocates point out that there are far more licensed riders than registered bikes in the United States. Connecting bike owners with riders helps ensure that these motorcycles get used. Sharing services also make motorcycle riding more affordable for enthusiasts who can't afford to purchase a bike or don't have the space to store it.
Sharing services can add protections and lower risks for participants by managing participation requirements, vetting riders, providing insurance options, and handling the financial transaction. The platforms also tend to have more reach within the motorcycle community than general listings websites.
Do I need insurance to join a motorcycle rideshare program?
If you own a bike and want to participate in a motorcycle sharing service, you'll need to check that your insurer will still cover your bike if it's used for rentals. Some insurers may require you to carry commercial insurance if you'll be allowing multiple riders to rent your bike, whereas some insurers might choose not to cover your bike at all.
In addition to your personal motorcycle insurance policy, ride-sharing services generally cover your bike while it's being rented, usually the minimum liability in your state. They might also offer set reimbursement amounts for property damage and motorcycle theft.
Depending on the platform, riders can add their own motorcycle liability coverage along with roadside assistance and flat tire protection to a reservation. Some platforms have different deductibles and varying levels of coverage. If you own a bike and are renting, your motorcycle insurance might also cover your rental. Check with your insurer to be sure you're protected before heading out with a rental. Learn more about the different types of motorcycle insurance coverages.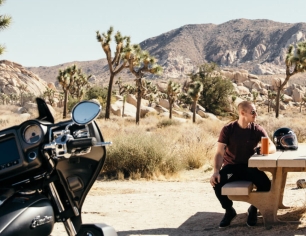 Enjoy life on two wheels with motorcycle insurance from Progressive