Can you rent a motorcycle?
Renting a motorcycle works the same ways renting a car. But you'll have to meet certain requirements before you can leave the lot. Renting a motorcycle is a great option if you have limited experience with a motorcycle and you want the chance to get a feel for riding before committing to buying a bike of your own. It's also a good way to test out different models.
2 min to read
How to rent a motorcycle
Think of renting a motorcycle like you would renting a car. At the core of the process you need a credit card and a license. And it needs to be a proper motorcycle license – a learner's permit isn't enough. If you happen to be from a different country, as long as you have a motorcycle license recognized in your home country, some rental companies will still let you rent a motorcycle.
You'll also need liability coverage for your motorcycle. Most rental agencies provide liability insurance as part of the daily cost of the rental. You can also add motorcycle insurance coverages like comprehensive and collision for an additional cost per day. Another option is getting a temporary motorcycle insurance policy.
A final requirement is age. Most places require you to be at least 21 to rent a motorcycle, but some companies only rent to riders 25 or older.
How much does it cost to rent a motorcycle?
Renting a motorcycle can be more expensive than renting a car. The costs vary based on several factors, but the largest consideration is the size of the motorcycle. A small bike will be less expensive to rent than a larger touring motorcycle such as a Harley-Davidson.
The rental cost includes liability insurance, a motorcycle helmet, and the motorcycle itself. Some companies might even throw in riding gear such as a leather jacket and pants, but this varies by the rental company.
Renting a motorcycle allows riders to try a different model than their own, which can help when deciding on a purchase of a new motorcycle. It's also a fun way to explore landscapes while traveling when you either can't or don't want to bring your motorcycle along.
Get the right coverage for renting a motorcycle with Progressive
Current Progressive customers
You can log in or call 1-866-731-8075 to check on your coverages.
New Progressive customers
Quote motorcycle insurance online or call 1-866-731-8075 to insure your car.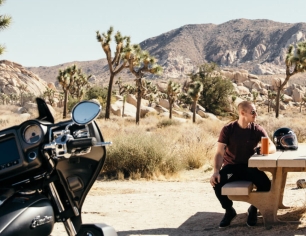 Enjoy life on two wheels with motorcycle insurance from Progressive