Can you lease a motorcycle?
While it's less common to lease a motorcycle than a car, it is possible. Motorcycles often cost less than a car but can still be an expensive purchase. Monthly lease payments are generally cheaper than a loan payment, but you may end up paying more overall than just buying your bike outright. At the end of the lease, you'll have to finance the purchase if you decide you want to keep the motorcycle.
3 min to read
How to lease a motorcycle
Before you lease a motorcycle, evaluate all your options. Many dealerships don't offer leasing due to the lower overall cost of motorcycles. But if you have poor credit and can't qualify for a loan, leasing a motorcycle allows you to get a bike you might not otherwise be able to afford. Two main companies provide motorcycle lease programs: Motolease and Speedleasing. If your dealer works with one of these companies, you may be able to lease a motorcycle and ride off the lot that day.
Another consideration to bear in mind is that some companies only lease certain types of motorcycles. For example, Speedleasing only leases motorcycles made between 2007 and 2020, typically Harley-Davidsons and 2014-20 Indians. Motolease leases both new and used machines up to 14 years old, if they are listed in the NADA Powersports guide.
If the dealer offers leasing, ask what the requirements are. You may need to put down between 10 and 20% of the value as a down payment. You should also ask about the length of the lease. In most cases, this will range from 1.5 to 5 years. At the end of your lease term, you can trade your existing motorcycle in for a new model. While this offers you the chance to try out multiple different bikes, it isn't the most cost-effective option. You can also choose to purchase the bike at the end of the lease, which could mean financing (and monthly payments) for another few years. Learn more about buying a motorcycle at a dealership or buying a new or used motorcycle online.
Benefits of leasing a motorcycle
If you want to own a motorcycle, financing your bike may be your best bet. But if you just want a machine to ride so that you can experience what owning a motorcycle is like (and possibly try it out for yourself), then leasing could be a good option.
First, leasing a motorcycle doesn't have the same stringent credit requirements as a loan. Even people with bad credit can qualify for a lease, although the interest on that lease may be higher.
Second, a motorcycle lease is for a variable amount of time. You can often choose how long you want to lease the motorcycle for. This gives you the option to lease a new motorcycle every year or two, which could be a benefit for an enthusiast who wants to try out the latest models on the market.
While leasing a motorcycle is possible, consider all the pros and cons of leasing vs. buying before you decide. Due to the lower cost and rapid depreciation of motorcycles, buying a used motorcycle model might be the better choice for someone on a limited budget who wants to begin riding. But if you aren't sure that riding a motorcycle is right for you, then leasing a bike or renting short-term is worth considering.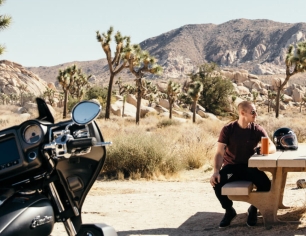 Enjoy life on two wheels with motorcycle insurance from Progressive