What is the best first motorcycle?
There's no one-size-fits-all answer when it comes to choosing the first motorcycle to buy. However, a few notable characteristics make some motorcycles more approachable for new riders. Look for affordable, inexpensive to repair, and lightweight motorcycles. They should also have good safety features and not too much power. Usually, new riders will find that bikes with a neutral, upright riding position are the best learner motorcycles, but that can depend on how you intend to use the bike.
3 min to read
Tips for buying your first motorcycle
Comfort and cost are important, but safety should be your number one priority when you start shopping for your first motorcycle. New riders are significantly more likely to have accidents and may encounter certain challenges on the road for the first time. Here are some important considerations as you're buying your first motorcycle.
Modern safety features
Vintage bikes are appealing for their looks, but modern motorcycles have safety features that can help prevent accidents, such as:
Traction and stability control
Seat height
Make sure the bike is the right size for you. Seat height determines how easily and comfortably you can put your feet on the ground if you need to support yourself at slow speeds, when many accidents and drops occur. Make sure you can put your feet on the ground without standing on your toes. If you're looking for an off-road bike with more ground clearance, you may have to accept a slightly higher seat height.
If you're buying a motorcycle for commuting or long-distance rides, make sure the seat isn't too low. Riding with your knees high can get uncomfortable or cause cramps over time.
Bike weight
A lighter bike is easier to control, especially in a sudden stop or unexpected maneuver. Beginners need a bike that they can comfortably handle until they develop more riding skills.
Engine size and power
New riders should strongly consider a bike with a smaller, less powerful engine. The more powerful the engine — and the higher the bike's power-to-weight ratio — the easier it is to accelerate quickly and reach high speeds. Bikes with big engines can quickly get away from riders who aren't used to controlling the acceleration or driving at high speeds.
Bike style
Some styles of bikes are more accident-prone than others. Supersport bikes are more likely to have fatal accidents than cruisers or standards, partly because they're lightweight and have powerful engines. If you're thinking about eventually riding a supersport-style bike (e.g., consumer versions of racing motorcycles), consider starting with something less powerful and moving up as you gain experience.
Should you buy new or used for your first motorcycle?
Both used and new bikes have advantages. Buying a used bike can reduce costs, making it easier to save money on repairs. They may also already have cosmetic damage, so you may not feel bad if you drop the bike and scratch it or cause additional damage. On the other hand, used bikes may have other problems or need repairs. They're also more likely to be older, so they may not have modern safety features important for new riders. Learn more about what to look for when buying a used motorcycle.
New bikes generally cost more but come with the promise that they are in perfect working order and should include manufacturer warranties. Buying new ensures you have access to the latest safety features. However, you may pay more for repairs, and lose more value if you damage a new bike versus an older, used one.
Find out more about buying a new vs. used motorcycle.
Save on motorcycle insurance with Progressive
Go online
We'll ask easy questions, then you choose coverages.
Quote motorcycle insurance online
Call us
Talk to a licensed representative who can help you choose the right coverage for you.
Call 1-866-749-7436
Talk to an agent
If you want local advice, we'll connect you with a licensed, independent agent near you.
Find an agent online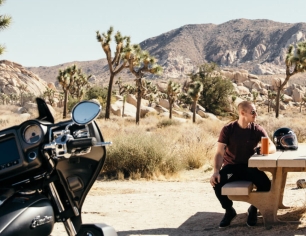 Enjoy life on two wheels with motorcycle insurance from Progressive