How to buy a motorcycle online
Many options are available for buying motorcycles online. Not only do dealers sell motorcycles on their websites, but you can also buy from private sellers through other online outlets. Online motorcycle shopping gives you a much wider selection and lets you research a bike's history. It does help to have some working knowledge of a motorcycle before you purchase it online since you won't be able to test drive it.
3 min to read
Tips for buying a motorcycle online
Every dealer offers a different way to buy a motorcycle online. If you are buying a new motorcycle online or buying a used motorcycle online, take the time to read the terms of the program so that you know what to expect. If you become confused by the method, look for a FAQ (Frequently Asked Questions) page, or a customer service number that can help. Learn more about buying a motorcycle from a dealership.
Ask for pictures of the motorcycle
Many sellers will post only one or two photos of a motorcycle. Ask for more detailed images, especially if you live far away and cannot inspect the bike yourself. If possible, request high-quality, high-definition photographs of the motorcycle in clear lighting. Look for dents, scuffs, paint damage, and other indicators that there might be unseen or undisclosed damage.
Request a video of the motorcycle
Ask the seller to start the bike on a recorded video. During the video, you should also ask the seller to shift gears, demonstrate the brakes, and open the fuel tank. Seeing and hearing the bike on video will give you an idea of any problems you should be aware of and how smoothly the motorcycle operates.
Have the motorcycle inspected
Once you decide you like the motorcycle, you can arrange for a mechanic to inspect it. Look for one in the seller's area with a good reputation. A motorcycle inspection is essential if you're buying from a private seller and not a dealer.
Utilize escrow
Buying a motorcycle online is a business transaction. There will be terms and conditions that both parties must meet before finalizing the sale. Make use of an escrow account to protect yourself during this process. The money will go into escrow service, which will transfer the funds to the seller once both parties meet the terms and conditions. Using an escrow account will help protect you against purchasing a motorcycle that may need significant repairs.
Look for customer reviews
If you're purchasing a motorcycle from a dealer, you can likely find reviews from previous customers about the quality and condition of motorcycles bought at that dealership. Reviews from previous customers can provide an unbiased look at what to expect.
Ask about delivery
Even if you buy a motorcycle online, not all dealers or sellers have a way of delivering the motorcycle to you. Make sure you know ahead of time how you will receive your bike. Ask if the seller will be able to deliver the bike to you or if you be required to meet the seller to pick up the bike.
Should I buy a motorcycle online?
Buying a motorcycle online can give you access to a much better selection than you might find locally, especially if you live in a rural area. A smart approach will keep the buying process moving smoothly and with as little stress as possible. Once the motorcycle is in your possession, make sure the seller has fully transferred the title to you and that your bike is insured before taking it out for a spin. Learn more about motorcycle insurance coverages and how motorcycle insurance works.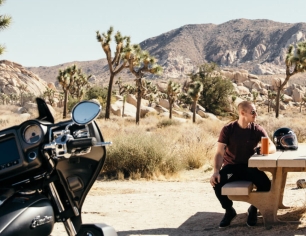 Enjoy life on two wheels with motorcycle insurance from Progressive