How to register a motorcycle
Registering a motorcycle is similar to registering a car. You'll visit your local Department of Motor Vehicles (DMV) and provide the necessary documentation to receive your motorcycle registration. While a license may not technically be required to register your motorcycle, you will certainly need a license to ride the motorcycle and should consider getting one before buying a new bike. Most states also require proof of insurance to obtain registration.
3 min to read
How much does motorcycle registration cost?
The cost to register your motorcycle will depend on where you live. Each state has its own fee structure for motorcycle registration. Motorcycle and vehicle registration fees may be flat fees or based on weight, engine, value, age, or other criteria. States may also have additional title fees and/or transfer fees if you're moving from another state. Learn more about motorcycle insurance requirements by state.
Do I need to register my motorcycle?
One thing every state has in common is the requirement for all motorcycles to be registered. It is illegal to ride an unregistered bike, even if you have a motorcycle license. While DMVs have traditionally required in-person visits, online motorcycle registration and renewal may be available in your state.
Check your state's DMV to see the options for registering and follow the instructions closely to avoid wasting time. Keep in mind that you will have a deadline for registering after purchasing a motorcycle or moving to a new state to stay in good standing with the law.
What do I need for motorcycle registration?
When you're registering your motorcycle, you can expect to provide:
Title
Proof of insurance
Your ID or driver's license
License plate
Your motorcycle may also be subjected to further inspection at the DMV. A full safety motorcycle inspection may also be required. If you don't have the title, a bill of sale may suffice, or you can apply for a new motorcycle title with the DMV. You'll have to pay the required fee, so be sure to confirm beforehand which forms of payment the DMV accepts and how much the fee will be.
How does motorcycle registration renewal work?
Once your motorcycle is registered, it's usually easy to renew your registration annually. Online renewals for motorcycles and vehicles are generally more common than those for new registrations. States may also mail forms to motorcycle owners to mail back for registration renewals. Keep in mind that motorcycle registrations and renewals have deadlines that you don't want to overlook – riding without a registration is illegal no matter where you live, and late fees often apply.
Do I need insurance to register a motorcycle?
In most states, proof of minimum insurance is required to obtain registration (and remember, registration is required to ride). Insurance requirements vary by state. Minimum liability requirements are typically expressed as three numbers with slashes in between, with the numbers representing the thousands for dollar limits—bodily injury per person/bodily injury per accident/property damage.
Although insurance is often stated as a requirement, it's also for your own wellbeing. Motorcycle accidents are common and sometimes serious, with significant financial damages. Many agents and experts recommend getting more than the state minimum coverage. Learn more about different types of motorcycle insurance coverage.
For the smoothest ride to securing your motorcycle registration once you own a bike, you should consider getting motorcycle insurance even before you get your motorcycle license. Even if your bike isn't being ridden, a policy with comprehensive and collision insurance will provide protection in the event something takes place while it's being stored. Then, gather all the required documents and apply for registration with the DMV.
You may even consider taking a motorcycle riding course to keep you safe and save money on your insurance rate. Learn more about motorcycle insurance discounts.
Get the right coverage for your motorcycle with Progressive
Current Progressive customers
You can log in or call 1-866-749-7436 to check on your coverages.
New Progressive customers
Get a motorcycle quote online or call 1-866-749-7436 to insure your bike.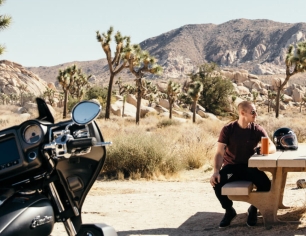 Enjoy life on two wheels with motorcycle insurance from Progressive