What is a motorcycle title?
A motorcycle title is proof of ownership. You'll need the title to register a vehicle, enabling you to get a license plate to ride on public roads. The motorcycle's title proves to your lender that you own the bike and aren't trying to sell or borrow against someone else's property. While it's possible to sell a bike using a bill of sale, it's preferable to use the title.
2 min to read
Do you need a title for a motorcycle?
When you buy a motorcycle, it's important to get a title. Whether you buy a new or used motorcycle, there's usually a title document that the seller signs over to you. The motorcycle title shows that they sold you the vehicle and the purchase price. However, if the seller doesn't have the title, you'll need to use a bill of sale to get a new one issued.
How to get a title for a motorcycle
The process for getting a title for a motorcycle is the same as for any other type of vehicle. If you don't receive the title from the seller, there's a simple process to get a new title issued in your name. Here are the four steps as to how to get a title for a motorcycle with a bill of sale.
1. Get a bill of sale
Before gettting a new title, the first thing you'll need is a bill of sale signed by the seller. The details included in a bill of sale vary by state but typically include the names of the buyer and seller, description of the item purchased, sales price, terms, and date. This document demonstrates to the title office that you acquired the bike legally.
2. Visit the title office
Once you have a bill of sale, you'll need to visit the local title office, usually a Department of Motor Vehicles (DMV) or title bureau.
3. Present documentation
When you're at the title office, in addition to presenting a bill of sale, you'll also need identifying information to show you're the buyer.
4. Get a new title
After you present the bill of sale and other documents at the title office, they'll review everything and ensure it's in order. If it is, they'll issue you a new motorcycle title. There's a small fee for the new title that varies by state. You may also have to pay a transfer tax based on the motorcycle's value.
Recently bought a motorcycle? Insure it with Progressive
Go online
We'll ask easy questions, then you choose coverages.
Quote motorcycle insurance online
Call us
Talk to a licensed representative who can help you choose the right coverage for you.
Call 1-866-749-7436
Talk to an agent
If you want local advice, we'll connect you with a licensed, independent agent near you.
Find an agent online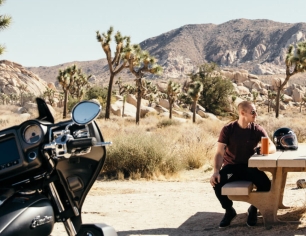 Enjoy life on two wheels with motorcycle insurance from Progressive