What is permanent life insurance?
Permanent life insurance is a type of life insurance that doesn't expire, no matter how long you live. These policies also include a cash value feature that can grow into an additional asset over time. Whole and universal life insurance are the two main types of permanent life insurance. The primary difference between the two is flexibility: a universal life policy lets you modify your premium payments and death benefit, whereas whole life has a fixed premium and death benefit amount.
3 min to read
How does permanent life insurance work?
Unlike term life insurance, a permanent life policy lasts your entire life so long as you keep paying your premium. So, you could buy a permanent life policy in your 30s and still have coverage in your 80s.
Permanent life policies include a tax-advantaged cash value feature that increases in value over time, becoming an asset you can use to borrow money, withdraw cash, or even pay your premium. Depending on the policy, the cash value feature may grow based on a fixed interest rate, variable rate, or the performance of a specific stock index.
What types of permanent life insurance are there?
Whole life and universal life are the two main categories of permanent life insurance, but there are a few variations of each policy type:
Whole life insurance: A standard whole life policy has a fixed premium payment, death benefit amount, and cash value interest rate.
Final expense life insurance: A type of whole life policy that covers end-of-life expenses, such as funeral services or outstanding debt.
Standard universal life insurance: A standard universal life policy lets you adjust your death benefit amount and your premium payment. The cash value feature has a guaranteed minimum rate, but the rate can vary based on market conditions.
Variable universal life insurance: A type of universal life policy that lets you invest the cash value, typically in mutual funds.
Indexed universal life insurance: A universal life policy where the cash value account earns interest based on the performance of a group of stocks, or stock index.
Learn more about the differences between whole life and universal life insurance.
How much does a permanent life insurance policy cost?
Permanent life insurance usually costs more than term life since the coverage doesn't expire and the policy has a cash value. Your insurance premium will vary based on your health, age, coverage amount, tobacco use, and more factors that reflect the risk to insure you. Learn more about what drives the cost of life insurance.
At what age should I get permanent life insurance?
If you have dependents, then you should consider getting life insurance as soon as possible. The more dependents you have, the greater the financial risk to your family if something were to happen to you. Plus, the younger you apply for a policy, the better chance you have at securing a lower premium since you're less likely to have health issues that may impact your coverage cost. Learn more about when you should get life insurance.
Can you cash out a permanent life insurance policy?
Yes, you can either take out a loan against the cash value of your policy or surrender the policy to your insurance company in exchange for the cash value, minus any fees or penalties. Keep in mind that you need to pay back a cash value loan with interest, and surrendering your policy means your beneficiaries won't receive a life insurance payout when you pass away.
Pro tip:
Taking out a loan against your permanent life policy's cash value also reduces your death benefit. So if you pass away while paying back a cash value loan, your beneficiaries may receive a smaller payout.
Is permanent life insurance worth it?
It ultimately depends on what kind of protection you're looking for. If you have a young family and want to ensure that they're financially protected while they depend on you, then a term life policy may suit your needs. But if you wish to provide for your family long after your kids are grown, then a permanent life policy may be the better option. Learn more about the differences between term and permanent life insurance, and how to determine how much life insurance you need.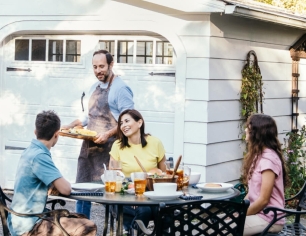 Get a free life insurance quote online in minutes