What is the difference between whole life vs. universal life insurance?
Whole life and universal life insurance are both permanent policies. Choosing between them can come down to specific features, like how the cash value component works and how much flexibility you want. Generally, whole life is simpler and more predictable, and universal life allows for more flexibility throughout the duration of your policy.
3 min to read
What is whole life insurance?
A whole life insurance policy offers lifelong coverage and a death benefit that your heirs may claim regardless of when you pass away (if you have paid your premium on time). It's the most common permanent life insurance type. Whole life might appeal to you if you're seeking:
Protection for your loved ones for your entire life
Set payments
A fixed interest rate on the policy's cash value
Fixed interest rate
One of the key features of permanent life insurance is the policy's cash value, which grows over time and allows you to borrow from it in the form of a life insurance policy loan. With a whole life policy, the money from the cash value will grow at a fixed rate, making it simpler and more predictable than other permanent life insurance types.
With whole life insurance, if you reach the insurer's maturity date (usually set for when you're 100–120) and your cash value equals the death benefit amount, your insurer will terminate the policy and pay out the coverage amount directly to you.
Learn how burial insurance works as a specialized type of whole life insurance.
What is universal life insurance?
Universal life insurance, also called UL or adjustable life insurance, is also permanent and will last until you pass away if your premium payments are up to date. Unlike a whole life policy, UL includes features that allow you to adjust your policy. For example, you can increase or decrease your premium or even skip payments if your cash value amount can cover the payment for you. Additionally, the cash value of a universal life policy can increase your death benefit when you pass away.
Unfixed interest rate
Unlike whole life insurance, a UL policy's cash value has an interest rate that's partially based on market conditions and will change over time. You'll have a guaranteed minimum interest rate, though.
Universal life policies are best if you want permanent coverage and a more hands-on approach to managing your life insurance policy. Its cash value carries greater risk and possibly more fees but greater potential reward. Learn how a general UL policy differs from the more specialized indexed universal life (IUL) insurance. You can also compare whole life versus IUL.
Comparing whole life vs. universal life insurance
Reference this table for a quick comparison of the differences between whole life insurance and universal life insurance. You can also learn more about the difference between term and permanent life insurance.
Whole life
Universal life
Coverage length

Whole life

Your lifetime

Universal life

Your lifetime
Cash value interest rate

Whole life

Fixed rate

Universal life

Guaranteed minimum rate, with the rest based on market performance
Premium payment flexibility

Whole life

None

Universal life

As your cash value amount allows
Cash value's maximum growth potential

Whole life

Pays out to you when you reach a certain age (100–120)

Universal life

Results in a zero-cost policy
Cash value's ability to increase death benefit

Whole life

None

Universal life

Death benefit may increase as cash value amount grows
How to get life insurance through Progressive
You can get a life insurance quote online. You'll be asked some questions, and then you'll choose your coverage amount, term length, and other policy details. You can also call 1-866-912-2477 to speak with a licensed Progressive Life by eFinancial representative who can help you find the right policy for you.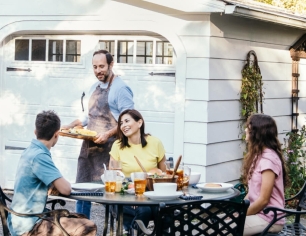 Get a free life insurance quote online in minutes