What is a life insurance rider?
Life insurance riders are optional add-ons that help you customize your policy's coverage. They add flexibility and benefits that your policy doesn't have by itself. For example, you may add a rider that lets you defer your premiums if you become disabled, or another that lets you add more coverage later without a medical exam. Adding riders to a life insurance policy often increases your premium, but not always.
7 min to read
Types of life insurance riders
Jump to get information about each type of life insurance rider:
How do life insurance riders work?
Life insurance riders work by changing the terms or conditions of a policy. If you have a life insurance rider and you meet the rider's requirements while it's still active, you'll be able to file a claim with your insurer to initiate the rider's benefits. Many insurance companies automatically include certain riders, or they'll allow you to add riders while you're shopping for life insurance.
But not all insurance companies offer the same riders, and some may only be available with certain types of life insurance.
What are the benefits of life insurance riders?
Life insurance riders make your life insurance policy more flexible, and they add useful features. For example, an accelerated death benefit rider can let you claim your death benefit yourself while you're still alive if you're diagnosed with a qualifying serious illness. Without this rider, only your beneficiaries would be able to claim your death benefit after you die.
Riders typically need to be added when you purchase life insurance, so consider which features you want before you buy.
Pro tip:
Like with any insurance rider, always read the fine print when considering a life insurance rider. The rules for each rider can vary greatly from one company to another, and some can only be used once or may expire if not used within a certain time period. A financial advisor can help you consider if certain riders fit into your family's financial planning.
Is it worth adding a rider to my life insurance?
It depends on the type of life insurance rider, as well as what you need from your policy. For example, if you suspect you'd need extra financial support if you develop a serious health condition later in life, it may make sense to get a health-related rider that lets you claim some of your death benefit under certain circumstances.
However, adding any sort of rider might increase your premium, perhaps significantly. Quote your policy both with and without the rider you're considering to see how much it changes your price.
Common life insurance riders
Many types of life insurance riders are designed to help people experiencing certain health-related circumstances. Some are focused on families, and others can change your coverage amount or policy type. Here are some of the most common types of riders in life insurance.
Health-related life insurance riders
Accelerated death benefit (ADB) rider
Accelerated death benefit riders are also called terminal illness riders. They're a type of living benefit rider, which lets you claim some or all of your death benefit while you're still alive if you meet certain conditions.
With an ADB or terminal illness rider, if you are diagnosed with a qualifying serious/terminal health condition (as defined in the rider's terms), you can claim a payout from your death benefit while you're still alive. Your insurance company may subtract the amount you take out from the death benefit your beneficiaries receive upon your death.
Important note: The qualifying conditions will vary based on the insurer and the rider. Find out exactly what your insurance company covers under an accelerated death benefit rider before adding it to your policy. For instance, some accelerated death benefit riders are focused on specific types of conditions, such as:
Critical illness riders and chronic illness riders

These riders give you access to your death benefit if you're diagnosed with certain qualifying conditions. Critical and chronic illness riders, while considered a type of accelerated death benefit rider, typically exclude terminal illnesses that a general accelerated death benefit would include.

Long-term care (LTC) rider

If you need qualifying long-term care, a long-term care rider allows you to access your policy's death benefit while you're alive. Depending on your LTC rider, you might be reimbursed for covered expenses or via a lump sum to be used however you like.
Waiver of premium disability rider
The waiver of premium rider waives your policy's premium if you develop a qualifying disability and can't work. The qualifying conditions for this rider vary by insurer, so research the qualifications outlined in the policy.
Family-related life insurance riders
Child and spouse riders
Child riders and spouse riders are designed to pay out a small death benefit if the insured child or spouse passes away during the rider's term. The payout amount from this rider can typically cover medical bills and funeral expenses.
Note that spouse riders typically provide much less coverage than if your spouse got their own policy. But it may be a good option if your spouse has trouble qualifying for affordable life insurance.
Family income rider
The family income rider provides an additional death benefit that's paid out in monthly installments after the insured dies, through the end of the policy's term. It's often purchased by sole breadwinners with a term life insurance policy who want to make sure their family still has a regular income if the insured passes away.
Other common life insurance riders
Accidental death and dismemberment (AD&D) rider
An AD&D rider increases your life insurance payout if your death is caused by a covered accident. It can also pay out a certain amount while you're still alive if you suffer a qualifying injury caused by an accident.
Cost of living rider
A cost of living rider gradually increases your policy's coverage over time in step with the Consumer Price Index so the value of your policy doesn't erode due to inflation. Your premium will also increase alongside your coverage amount.
Guaranteed insurability rider
A guaranteed insurability rider lets you periodically choose to add more coverage to your policy without undergoing a life insurance medical exam. This allows you to potentially save money if you think you'll want more coverage in the future. This rider is most common on whole life insurance and universal life insurance policies.
Return of premium rider
A return of premium rider refunds all or some of your term life insurance premiums at the end of your policy's term, so long as the death benefit hasn't been paid out. The benefits of this rider often depend on your investment strategy. Consult with a financial advisor if you're considering it.
Term life insurance rider
A term life insurance rider lets you purchase additional term coverage on top of your permanent life insurance policy, giving you a larger death benefit for a set period of time. This is popular for parents who want to ensure their families can claim a larger payout if the parent dies very early in life.
Example:Chris estimates that his family would need $300,000 if he died while the kids are still living at home. But after they move out, his family would only need $200,000. Rather than taking out a $300,000 whole life policy, Chris decides to buy a $200,000 whole life insurance policy with a $100,000 20-year term rider. This way, his family has the extra coverage they need without paying for a more expensive $300,000 whole life policy.
Term conversion rider
With a term conversion rider, you can convert a term life insurance policy into a whole life policy near or at the end of the term. This function may also come in the form of a "term conversion provision" on your term policy. This rider or provision can be a more affordable way to access permanent coverage later in life, since purchasing a brand new whole life policy at an older age would be significantly more expensive.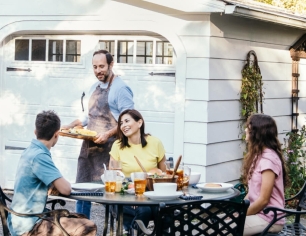 Get a free life insurance quote online in minutes