What is a family income rider?
A family income rider is an optional add-on to your term life insurance policy that, if you pass away, will start paying out your death benefit in monthly installments to replace the income you provided your family. You might consider this type of rider if you have a young family that depends primarily on your income, or if managing a lump sum life insurance payout upon your death would be overwhelming for your beneficiaries.
2 min to read
How does a family income policy rider work?
With a family income policy rider, you'll pay a monthly premium to ensure your beneficiaries would receive a monthly payout after you die for the remaining length of the policy's term. You can select a monthly payout amount that's equivalent to your monthly wages as a way to replace your income if you were to pass away unexpectedly. At the end of the term, depending on your insurer and policy, your beneficiaries may receive the remaining payout as a lump sum.
Example:You purchase a family income rider for your term life policy that lasts until you plan to retire at 60, at which point your spouse no longer plans to rely on your income. You pass away unexpectedly at age 45, so the family income rider makes monthly payments to your spouse in the amount you specified for 15 years. At that point, the monthly payments will stop, and your spouse may receive the remaining death benefit as a lump sum.
If you outlive your term life policy with a family income rider and you still want coverage, you can opt to convert your term life policy to whole life so it lasts the rest of your life, or you could take out a new policy like final expense life insurance (usually for a lower cost and smaller death benefit). Another family income rider may or may not be available on your new or converted policy.
Should I get a family income policy?
A family income policy rider can help protect your family from the stress of managing a lump sum policy payout if you pass away while they still depend on you financially. Plus, family income riders are often affordable and sometimes even included in term policies at no extra cost.
Note that a family income policy's death benefit must often be claimed within a certain time frame after you die. If you choose to include a family income rider, check your policy and let your beneficiaries know about the requirements and any time constraints. Additionally, some insurers may only provide this life insurance rider as "decreasing term life insurance," meaning your beneficiaries' total payout would decrease the longer you live, and there would be no lump sum payment at the end of the term.
What's the difference between a family income policy vs. a family maintenance policy?
While a family income rider is added to a term life insurance policy, family maintenance policies are typically whole life insurance policies. So if you have a family maintenance policy, coverage will last your entire life, unlike a family income policy rider, which won't pay out anything if you die after the term ends. A family maintenance policy allows for the death benefit to be paid out in installments if you die younger than a certain age. If you die when you're older than that age, your beneficiaries will still receive your payout, and it will be paid as a lump sum.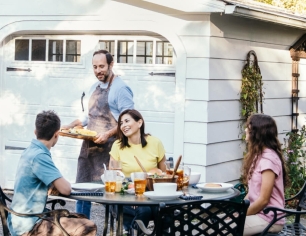 Get a free life insurance quote online in minutes