Should you buy life insurance with a long-term care rider?
Using life insurance for long-term care (LTC) via a rider can provide some financial protection if you're no longer able to take care of yourself as you get older. Life insurance with an LTC rider will increase your premium, and if you tap into your policy's benefits while you're alive, there might not be much left for your beneficiaries when you pass. However, the life insurance and long-term care combo this rider provides may be an option for obtaining a long-term care benefit.
4 min to read
What is an LTC rider?
A long-term care life insurance rider is a policy addition that slightly changes how your life insurance works, allowing you to use part or all of the policy's death benefit for long-term care while you're alive. This rider can help you pay for your long-term care expenses that traditional health insurance doesn't cover, such as a home health care worker, long-term care facility, or a nursing home. An LTC rider doesn't pay for expenses covered by health insurance policies like doctor visits, hospital stays, or prescriptions.
If your insurer offers long-term care riders, you can typically add one to a permanent policy such as universal life insurance or whole life insurance. LTC riders aren't usually added to term life insurance policies, but check with your insurer to find out what's possible.
Does long-term life insurance exist?
There isn't technically a life insurance product called "long-term life insurance," but the term might be used to refer to one of two things:
Permanent types of life insurance policies, which last your entire life and are therefore considered long-term life insurance instead of short-term life insurance
Life insurance policies with long-term care benefits like a long-term care rider
How does life insurance with a long-term care rider work?
If you qualify for the long-term care benefit via your LTC rider, your life insurer may distribute up to the allowed amount, which may be set as a lump sum or as a percentage of your policy's death benefit each month. Monthly allowed amounts vary but could range from 1% to 4% of your death benefit. Most policies have a waiting period, usually around 90 days, before you can begin receiving the benefit.
How do I receive payouts from a long-term care rider?
There are two types of payouts you might receive: indemnity and reimbursement. If your policy provides indemnity payments, you get a set amount each month to use however you want. If you have a reimbursement plan, you submit receipts for your monthly bills, and the insurance company reimburses you for covered expenses.
LTC rider waiting periods and requirements
A waiting period determines when you can start using your benefit for qualifying long-term care costs. If your LTC rider has a waiting period based on calendar days, each day from the time you're diagnosed counts toward satisfying the policy's requirement. If the waiting period is based on days of service, only the days you receive LTC services count toward meeting the requirement.
Every company has different rules about how their life insurance riders work, so make sure you understand the full details of your policy. It's possible that for a LTC rider to kick in and the waiting period to begin, two things might need to happen:
A licensed health care professional must diagnose you with a qualifying chronic health condition.

You must be unable to independently complete a certain number of daily living activities, which might include: eating, bathing, using the bathroom, dressing and undressing, moving around freely, and maintaining continence.
Your insurer may also have rules about which diagnoses can activate coverage under an LTC rider. Examples of conditions that require long-term care include:
Parkinson's disease
Stroke
Cancer
Rheumatoid arthritis
Alzheimer's disease
Pro tip:
Before buying life insurance with an LTC rider, be sure to read the terms and conditions carefully. Benefit amounts, qualifying conditions, waiting periods, and payout methods vary based on the insurer and policy you choose.
Is a life insurance and long-term care combo policy worth it?
The LTC life insurance rider allows you to combine your life insurance benefit into one that assists with long-term care needs. While standalone long-term care insurance policies were once more prevalent in the market, they're now rare and can be expensive. Therefore, if you're looking for a long-term care benefit, a life insurance and long-term care rider combo may be the option that offers peace of mind for you and your loved ones.
How to get life insurance with a long-term care rider
Get a life insurance quote online. You'll answer some questions; then you'll choose your coverage amount, term length, and other policy details. You can also call 1-866-912-2477 to speak with a licensed Progressive Life by eFinancial representative who can help you find the right policy.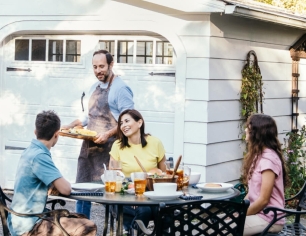 Get a free life insurance quote online in minutes