What are the safest cars for babies?
When shopping for a car to prepare for the arrival of a new baby, safety is often parents' top priority. Industry organizations like the Insurance Institute for Highway Safety and the National Highway Traffic Safety Administration make it easy to check safety ratings for many different makes and models. Comparing vehicle safety ratings, available safety features, and car seat fit can help you choose the safest car for your family.
3 min to read
What are the best cars for new parents?
While safety is paramount when selecting a vehicle for your growing family, it's not the only factor to consider. If you're planning to upgrade your ride before your baby arrives, here are some things to think about before buying a new car.
Safety
The Insurance Institute for Highway Safety (IIHS) and National Highway Traffic Safety Administration (NHTSA) conduct real-life crash tests and provide safety ratings for hundreds of vehicles on the road today. Cars that receive higher ratings are viewed as more likely to keep you and your baby safe if you're in an accident. You'll also want to check out a vehicle's safety features. Rear-seat reminders, lane change assist, blind spot warnings, collision alerts, and more can help keep your little one safe on the road.
Space
Rear-facing car seats can take up a lot of space. Make sure the vehicle you choose has enough legroom for the driver and front-seat passenger to sit comfortably when you have a rear-facing car seat in the backseat. Remember, you won't just be transporting your baby from place to place. You'll be taking their stuff too — and there is a lot of it. It's important to select a car with ample room for passengers and enough cargo space for all the gear your baby will need when visiting grandma.
Your future plans
To avoid shopping for a new car a couple of years down the road, look for a vehicle that will continue to meet your needs as your family grows and your children get older. Keep in mind that children may need to stay in a booster seat for longer than you realize, and some back seats can only accommodate two car seats, even if you can fit three people without car seats.
Doors
Sliding doors can be a lifesaver when you have your hands full with a screaming infant and all their gear. As your child grows, those same sliding doors make it easier for them to get in and out of tight spaces without hitting the car next to you.
Step-in height
Climbing onto a running board to hoist your infant into their car seat may not seem like a big deal the first few times you do it, but it's easier to get kids and their stuff into cars with lower step-in heights.
What are the best cars for baby seats?
According to the NHTSA, nearly half of all car seats are installed incorrectly. All car seats do not fit well in all cars. It's critical to select a car with easy-to-use car seat anchors and a seat that fits properly and securely in the vehicle you choose. The NHTSA's ease-of-use ratings can help.
If you want someone to inspect your car seat to make sure you installed it properly, look for a certified technician near you. They can show you how to correctly install and use the seat, usually at no charge.
Do I need an SUV for a baby?
SUVs offer plenty of interior room, cargo space, and other features that are nice to have with a baby on board, but you don't need an SUV. You need a vehicle that's safe, fits your lifestyle and will continue to meet your needs as your child grows, whether that's an SUV, a minivan, or a sedan.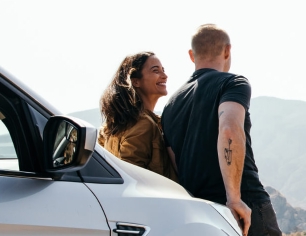 Quote car insurance online or give us a call