What is snowmobile insurance?
Whether the place you're riding requires it, snowmobile insurance can protect your sled, yourself, and your passengers. Snowmobile insurance can include liability, comprehensive, collision, injury, uninsured motorist, and accessory coverages.
2 min to read
How much is snowmobile insurance?
The cost of snowmobile insurance is based on factors such as how much the sled is worth and the coverage level. An expensive snowmobile costs more to replace. Likewise, more extensive coverage can command a higher premium.
What does snowmobile insurance cover?
Comprehensive and collision coverage
Minimum snowmobile insurance usually provides liability coverage for an accident involving one or more people and property damage from an accident. Comprehensive coverage may cover non-collision losses, including theft, vandalism, fire, a falling object, flooding, hail, and other weather events. In addition, comprehensive usually extends to scenarios such as contact with an animal and breaking through the ice into water.
Collision coverage may cover snowmobile damage or loss due to a rollover or collision with another vehicle or an object. Additional items such as safety gear, apparel, and other items carried on the snowmobile may not be covered, so it is important to review your specific policy and understand what is included.
Other snowmobile insurance coverages
Additional snowmobile coverage types include:
Trailer and coverage for custom parts and accessories
If you want to purchase snowmobile insurance in the United States and plan to use the sled within Canada, check with your insurance provider to ensure your coverage extends to other parts of North America.
Do you need snowmobile insurance?
Some states require minimum liability insurance to operate a snowmobile. Some parks that allow snowmobiles also require you to have insurance. Minimum liability can cover injuries and property damage you cause to others if you're ever in a snowmobile accident.
No matter how experienced you are at operating a snowmobile, the activity comes with risks: accidents, injuries, damage to other vehicles and properties, theft, vandalism, and extreme weather. There's also a chance your snowmobile could break through solid ice and sink into the water below. Snowmobile insurance may help protect your sled in case of these risks.
How to insure your snowmobile with Progressive
Go online
We ask easy questions, and you customize your coverages.
Get a snowmobile insurance quote
Call a rep
Talk with a licensed representative who can guide you through the process.
Call 1-866-749-7436
Through an agent
Connect with an independent agent in your area.
Find an agent online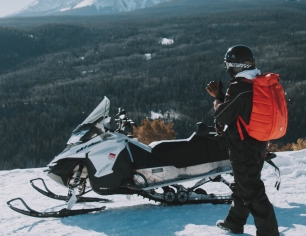 Stay cool with a snowmobile insurance quote from Progressive