Is snowmobile registration required?
Snowmobile registration laws vary by state, so it's best to check with your state's Department of Motor Vehicles (DMV) about their rules. In some states, registration is handled by a different department, like Parks and Recreation or Natural Resources. Registration may not be required if you only use the snowmobile on your personal land.
3 min to read
What are snowmobile registration numbers?
If your state requires you to register your snowmobile, they'll give you a registration certificate with a unique identifier for your snowmobile. They'll likely give you registration stickers that you're required to display on your snowmobile.
Some states require snowmobile registration stickers be in a contrasting color to the snowmobile itself, making them easily visible and identified when needed. In these cases, you may need to order custom-made stickers that comply with the contrasting color requirement. There may also be rules about the size of the letters and numbers on the stickers as well.
Where should the registration decals be placed on a snowmobile?
Snowmobile registration stickers must appear prominently on both sides of the snowmobile. An engine cowl is a common place for it and in front, behind, and below the handlebars. Many snowmobile manufacturers indicate two areas on their snowmobiles for decals.
Should I do a snowmobile registration lookup before buying one?
There's no publicly available way to look up information about a snowmobile by its registration number. However, snowmobiles do have a vehicle identification number (VIN). If you're buying a used snowmobile from a private party, you'll want to get the VIN from the seller for a few reasons:
Some states require a snowmobile title for registration. If your state does, you can verify that the VIN on the snowmobile matches the VIN on the seller's title or registration.
You can perform a snowmobile VIN search online to verify that it matches the year, make, and model of the one you're looking to buy.
You may be able to contact your local police department and ask them to make sure the VIN doesn't show up in their records as stolen.
Do I need to register a snowmobile to get insurance?
It depends on your state and your insurer. Generally, if your state doesn't require a snowmobile registration, then your insurance company likely won't require it either. Not all states require it. Even if a state doesn't require it, some physical locations like snowmobile parks could require snowmobile insurance.
And if you're financing the purchase of a snowmobile, your lender may require you to get snowmobile insurance as part of their loan terms. Learn about how snowmobile insurance works.
Get the right coverage for your snowmobile with Progressive
Current Progressive customers
You can log in to your policy to check on your coverages or call 1-866-749-7436.
New Progressive customers
Get a quote for snowmobile insurance online or call 1-866-749-7436 to insure your snowmobile.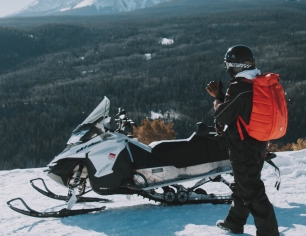 Stay cool with a snowmobile insurance quote from Progressive