Do snowmobiles have titles?
A title is an official document used to prove ownership in certain large-ticket items, including vehicles like cars and boats. In the case of snowmobiles, however, not all are required to have titles. It depends on where the owner of the snowmobile lives, and fewer than half of states require snowmobile owners to have a snowmobile title. A snowmobile bill of sale and/or registration can typically serve as proof of ownership in most states.
3 min to read
What's a bill of sale for snowmobiles?
A snowmobile bill of sale documents the transfer of snowmobile ownership from one person to another. Though requirements vary by state, here's what you'll typically see documented on a bill of sale for a snowmobile:
Year, make, and model
Description of snowmobile
Date of sale and purchase price
Names, addresses, and signatures of the buyer and the seller
A bill of sale may be issued when buying a new or used snowmobile from a dealer or created by the seller in a private party sale. Some states have official versions of the form that can be downloaded from their Department of Motor Vehicles (DMV) website. If not, you can create one yourself.
How to get a title for a snowmobile
Having a title for a snowmobile is only required in a handful of states. Check with your state's DMV to see what's required where you live. You can also check your state's Department of Fish and Wildlife because snowmobiles are considered recreational vehicles.
In states where a title is required, a snowmobile dealer will usually give you a title when you take possession of the snowmobile. However, if you're buying a snowmobile from a private party, the seller should give you the title. The title document itself should have instructions for completing a snowmobile title transfer. In some states, snowmobile registration may also be required.
Where to keep a snowmobile title for documentation
Whether your state requires a formal snowmobile title, a registration certificate, or a bill of sale to demonstrate snowmobile ownership, you should keep all documents in a safe place. A safety deposit box at a bank or a fireproof safe box at home are good options for keeping important documents safe.
Get the right coverage for your snowmobile with Progressive
Current Progressive customers
You can log in to your policy to check on your coverages or call 1-866-749-7436.
New Progressive customers
Get a quote for snowmobile insurance online or call 1-866-749-7436 to insure your snowmobile.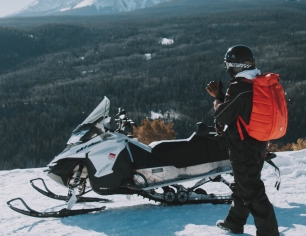 Stay cool with a snowmobile insurance quote from Progressive