What size truck do I need to pull a boat?
You'll need a truck or SUV for towing a boat or a vehicle that has enough capacity to pull it, and different boats have different weights. If you pull a small fishing boat, some larger cars might have enough towing capacity. But a large truck or full-size SUV is a better option if you're hauling a large pontoon or cruising boat. With the variety of trucks and SUVs on the market, the choices can be overwhelming, and you'll want to consider more than how much it can haul.
4 min to read
Considerations for buying an SUV or truck for towing
Will you haul your family to the lake with your boat? Or will your truck be used exclusively for towing your fishing boat? Knowing how you will use your SUV or truck for towing will help you decide. When selecting a vehicle, it's important to consider the price and choose the one you can afford. The cost of mid-sized trucks and SUVs is comparable, but full-sized SUVs typically cost more than full-sized trucks.
If you'll use your vehicle for more than towing your boat, it's important to select one that meets all your needs and lifestyle. Trucks typically have greater towing capacity and beds for hauling oversized loads but less passenger interior space. SUVs can pull smaller loads but have more interior room for passengers and cargo.
Many factors affect auto insurance rates, including the price of your vehicle. More expensive cars cost more to repair, which means higher insurance rates. Since many SUVs cost more than trucks, you'll likely pay more to insure an SUV if all other factors are equal. Learn more about what impacts car insurance costs.
Choosing a vehicle with enough towing capacity to haul your boat and trailer together is essential. A trailer typically weighs 600 to 1,500 pounds, while boats can weigh from 300 to 5,000 pounds or more — without fuel or fishing gear — depending on the size and type of boat. If you break down 100 miles or more from home while towing your boat, Progressive's trailer trip interruption coverage will reimburse you for up to $500 for food, lodging, and transportation expenses. Learn more about boat insurance coverages.
The vehicle's payload is how much it can carry on the inside, including people and cargo, plus the weight the trailer places on the hitch when you're hauling something. It's important to ensure the vehicle's payload can accommodate the weight from the trailer. It's also important to consider the car's radiator. The more weight a vehicle pulls, the more stress on the car. Larger radiators can cool a vehicle more quickly to help prevent it from overheating.
Choosing the best SUV for towing a boat
SUVs generally have a lower towing capacity than some trucks on the market. However, many SUVs can tow 5,000 pounds or more, enough to haul many smaller and mid-size boats. Here are a few to consider.
Full-size SUVs
Towing capacity and options vary based on your chosen package. Still, many full-sized SUVs offer features that make towing a boat easier and safer. These include back-up assist, trailer sway control, and blind-spot warning systems. According to the manufacturer, the models below can haul over 8,000 pounds and may have some of those features available.
Ford Expedition: Tows up to 9,300 lbs.
Lincoln Navigator: Tows up to 8,700 lbs.
Mid-sized SUVs
If you need to tow a boat but don't want a full-sized SUV or pickup truck, these midsized models can tow up to 5,000 pounds, according to CARFAX. However, you may need to opt for the towing package.
Honda Pilot
Toyota Highlander
Toyota 4Runner
Chevrolet Traverse
Hyundai Palisade
Choosing the best truck for towing a boat
Most trucks have a towing capacity that exceeds what you need to haul the average boat. But if you prefer trucks over SUVs, here are some to consider, including their towing capacities according to their respective manufacturers.
Full-size trucks
Toyota Tundra: Tows up to 12,000 lbs.
Chevrolet Silverado: Tows up to 14,500 lbs.
Ram 1500: Tows up to 12,750 lbs.
Mid-size trucks
Toyota Tacoma: Tows up to 6,800 lbs.
Chevrolet Colorado: Tows up to 7,700 lbs.
Nissan Frontier: Tows up to 6,720 lbs.
If you plan on towing a boat, you may also want to ensure the trailer and the boat are protected while you're transporting. Learn more about how boat insurance can help cover your trailer.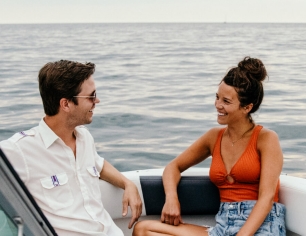 Enjoy life on the water with boat insurance from Progressive