Does car insurance cover windshield damage?
If you have comprehensive coverage, then you should be covered for auto glass repair, including a full windshield replacement. At Progressive, if your glass can be repaired instead of replaced, then you won't have to pay anything in most cases.
4 min to read
What to do if you have a broken windshield
If your windshield breaks, you should file a claim as soon as possible and before any repairs are made. If the damage occurs while you're driving, pull over as soon as you can, and report your claim immediately.
If your windshield gets chipped or cracked, you should file a comprehensive claim as soon as you can and before you proceed with repairs.
Important note: You shouldn't wait too long after the damage occurs to file a glass claim, and the claim should be filed before any repairs take place. The longer you wait to get your windshield or window fixed, the more likely the chip or crack will spread.
Learn more about when it's better to repair or replace your windshield.
When does insurance cover windshield replacement?
In most cases, you need to carry comprehensive coverage for your car insurance policy to cover a cracked or broken windshield and other types of glass damage, but collision coverage often applies in an accident with another vehicle.
When comprehensive applies: If your windshield is damaged as a result of falling debris, hitting a deer or animal, or other perils, then comprehensive coverage generally covers the cost to repair or replace it.
When collision applies: If your windshield is damaged in a car crash, collision coverage typically covers the damage instead of comprehensive.
Important note: If your windshield is damaged in a car accident, and the other driver is at fault, then you can choose to file a claim against their insurance to cover the cost to fix your windshield.
How much does it cost to fix a broken windshield?
Repairing a windshield is less expensive than replacing one. That's because the cost to repair a windshield generally varies by how much of the glass needs fixing. In contrast, the cost of a windshield replacement can vary based on many factors, including:
Your car's make and model
Your location
The type of glass used
Bear in mind, depending on your state car insurance requirements and policy, if you file an auto glass claim, the most you'll need to pay is your deductible — your insurance should cover the rest of the bill if the damage qualifies for coverage. Some state laws, like Florida's windshield replacement law, waive deductibles for broken windshields if the driver carries comprehensive coverage.
Pro tip:
With Progressive, you can get a cracked windshield repaired without paying a deductible so long as the crack is repairable and less than 6 inches long. Plus, we offer a $0 deductible option for glass-only replacement claims in some states. Learn more about filing an auto claim with Progressive.
Does auto insurance cover rock chips?
A rock chip happens when a small rock or object nicks your windshield and causes a small chip in the glass. Your comprehensive coverage should cover this type of damage. Since rock chips can spread into larger cracks, it's best to get them fixed as soon as possible to avoid further damage to your glass or windshield.
Should I use insurance to replace my windshield?
In general, it's worth filing a claim for glass or windshield damage if the repair cost is higher than your car insurance deductible. For example, if your windshield replacement costs $400 and your deductible is $250, you'll only pay $250, and your insurer will pick up the remaining $150.
Does filing a windshield claim affect my insurance premium?
This varies between car insurance companies. Talk to your insurer for more details.
What should I do if my insurance doesn't cover glass damage?
If your car insurance doesn't cover windshield replacement or glass damage, you should still get the repairs done. Many states have laws against driving with a cracked windshield. Plus, you're putting yourself and your passengers at greater risk. Not only is it harder to see out of a cracked windshield, but it's also more likely to shatter if something else hits it.
Can I pass a state inspection with a cracked windshield?
If your state requires vehicle safety inspections (most do not), you could pass if your windshield has only minor damage. However, inspection requirements vary significantly between states, and they can be very specific. For example, Virginia rejects any vehicles with a pit, chip, or star crack larger than 1.5 inches in diameter or length that's 3 inches above the bottom of the windshield. Vehicles can also fail inspection if there's any crack that weakens the windshield to the point that one piece can be moved in relation to the other.
Even if your vehicle passes inspection with a damaged windshield, you should still get it fixed. Windshields are an essential safety feature, and even the most minor damage can become a major hazard if left unrepaired.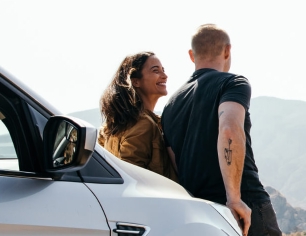 Quote car insurance online or give us a call