Should you buy an aluminum or fiberglass boat?
Aluminum and fiberglass boats are two of the most common types of craft for weekend boaters. Which one you get will depend on how you plan to use your boat. If you'll be taking fishing trips by yourself, aluminum boats are lighter and easier to handle solo. If you'll be taking family and friends out on the water for wakeboarding and other watersports, a heavier duty fiberglass boat may be a better option.
3 min to read
Pros and cons: aluminum vs. fiberglass boats
Aluminum boats
In the world of small motorboats and weekend fishing trips, aluminum boats rule the roost. Aluminum boats are lightweight, easy to maneuver, and relatively inexpensive. They're also simple to maintain and easy for a single person to handle, including launching off a boat ramp. Here are the things to know about aluminum hull boats.
They can take a beating
Unlike fiberglass boats that can crack or break, aluminum boats are very resilient. If you run into something, the worst thing that usually happens is a dent or bend, which is easily repaired.
Aluminum is much lighter
These boats can be easier to power, and they're also simple to maneuver out on the water. They can navigate into tight spots or hidden fishing holes but are less capable of towing things or hauling considerable weight.
Less expensive to purchase and maintain
Compared to fiberglass, aluminum boats tend to be much less expensive, and hull maintenance is more manageable.
Easier to launch and repair
Because they're lighter, aluminum boats are typically easier to get in and out of the water. Also, damage is often limited to dents and bends instead of cracks or breaks and can be easily fixed.
Corrosion can be a problem
While hull damage can be more easily repaired on aluminum boats, corrosion is something you'll need to look out for. This isn't as big a concern for fiberglass, outside of the outboard motor, stabilizers, and other mechanical parts.
Fiberglass boats
While aluminum boats are cheaper and easier to handle, fiberglass boats are much heavier and can haul more weight. This makes them better for family outings or more demanding activities like tubing or wakeboarding. If you are looking for fun for the whole family or want to feel steadier in choppy water, fiberglass may be the best choice.
Hulls come in many designs
Unlike aluminum, there are many different sizes and shapes of fiberglass hull boats. Fiberglass boats are typically bigger and may have cabins and other features.
Repairs can be costly
When fiberglass cracks or breaks, it can take special equipment to fix, which gets expensive fast.
Weight = stability
Fiberglass hulls typically weigh more than aluminum, making them more difficult to launch and harder to maneuver. However, this extra weight also helps displace more water, making them feel more stable than lighter aluminum boats.
Fiberglass is usually more expensive
Because fiberglass boats are usually bigger, heavier, and more complicated in their construction, they're often more expensive than small aluminum boats.
Which is better: fiberglass or aluminum boats?
If you want a fishing boat or something small to explore in that you can launch and maintain yourself, an aluminum boat may be a good choice. If you want to load up the cooler and take your whole family for a day on the water, spend the night on the boat, or enjoy some heavier-duty watersports, then fiberglass may be the way to go.
If you're looking to buy a boat, fun is already in your future. You have to decide which type of boat to buy, and while you're at it, consider boat insurance to help protect you financially from injuries or damage while boating.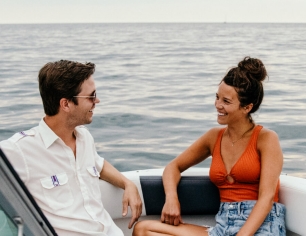 Enjoy life on the water with boat insurance from Progressive