What is ATV insurance?
ATV insurance protects you and your off-road vehicle, whether you ride an ATV, UTV, or side-by-side. Liability coverage on your ATV/UTV policy can help cover property damage or injuries you cause while riding. Insurance for off-road vehicles can also pay to repair or replace your damaged ATV/UTV, assuming you carry comprehensive and collision coverages. Many insurers that offer ATV/UTV insurance, including Progressive, also offer extra coverages to protect any upgrades you've made to your vehicle, as well as riding gear and the belongings you carry on your bike.
4 min to read
Is ATV or off road insurance required?
While an ATV insurance policy functions much like motorcycle insurance, one important distinction is that insurance coverage for off-road vehicles isn't always mandated by law because they're not typically driven on standard roadways, and some states ban them on roadways altogether. Registration requirements and insurance regulations may differ in states depending on where the vehicle is being driven. Although many states don't require insurance for ATV, UTV, and similar off-road vehicles, liability coverage, standard on ATV/UTV policies, may be mandated at certain private trails and parks where you plan to ride. If you lease or finance your vehicle, your lender may also require comprehensive coverage and collision coverage.
How does ATV insurance work?
When you purchase ATV/UTV insurance, you can customize your policy to your vehicle. Your chosen coverages and the limits you select will affect the price of your policy. Learn more about factors influencing the cost of ATV insurance.
If you're liable for another person's injuries or damaged property, or your vehicle is damaged in an accident and you have physical damage coverages on your policy, your insurance may pay for losses or injuries, up to your coverage limits and minus any deductible. ATV/UTV policies are often one year in length, which means, if you carry comprehensive coverage, your vehicle is protected against theft, vandalism, and weather-related issues, even in the winter months when you may not be riding and your vehicle is in storage.
What does ATV insurance cover?
Most ATV/UTV insurers offer these coverages:
Bodily injury liability coverage: Pays for injuries you cause to someone while riding your off-road vehicle, up to your policy's limit.
Bodily injury property damage: Pays for damage to someone else's property if you're liable in an accident, up to your policy's limit.
Collision coverage: Pays to repair or replace your ATV/UTV if your vehicle collides with another vehicle or stationary object, minus your deductible.
Comprehensive coverage: Covers events outside of your control, including theft, vandalism, hitting an animal, fire, and weather-related damage, minus your deductible.
Medical payments: Pays for medical bills for you and your passengers if you're in an accident with your ATV/UTV, regardless of fault.
At Progressive, we automatically include accessories and custom parts/equipment (CPE) coverage on all ATV/UTV policies with comprehensive and collision coverage. That means you get $3,000 in coverage for upgrades, customizations, and equipment damaged in an accident. You may be able to purchase more coverage, up to $30,000, if necessary.
Progressive also gives you the option to purchase coverage for your belongings, so your camping equipment or any personal items that are damaged due to a covered loss are covered. Learn more about specialized ATV insurance coverages.
Are ATVs covered by homeowners insurance?
Homeowners insurance typically doesn't cover off-road vehicles – and this is especially true once the vehicle is driven off your property. Like any motor vehicle, your ATV or off-road vehicle needs its own ATV insurance policy.
However, in specific cases and depending on your policy, your home insurance policy's personal liability coverage may provide some protection, up to your coverage limits, if someone else is injured while riding an ATV on your property.
Get coverage for your off-road vehicle with Progressive
Online
Answer easy questions, choose your coverages, and get the protection you need.
Quote ATV insurance online
Call a rep
Speak with a licensed representative who will help you through the entire process.
Call 1-855-347-3939
Through an agent
Get expert advice from a licensed independent agent near you.
Find an agent online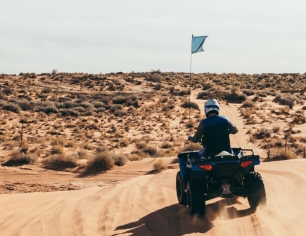 Forge your own path with an ATV insurance quote from Progressive