How much is ATV and UTV insurance?
The overall cost of insurance for an ATV or UTV depends on the extent of coverage you select in addition to several other factors. The cost can vary widely though based on the type of vehicle and characteristics of the customer, so the best way to know your ATV or UTV insurance cost is by getting a free quote.
3 min to read
What impacts ATV insurance cost?
ATV insurance cost and rates depend on various factors, especially the extent of motorcycle insurance coverage you opt for depending on your state's minimum coverage requirements. For example, a basic policy with just bodily injury liability and property damage liability may be the least expensive option, but if you want comprehensive coverage or collision coverage, you'll have to add them to your policy for an additional cost. On top of the coverage options, the rate of insurance for your ATV will also depend on make and model, location, experience and driving history.
The vehicle's make and model
How fast your off-road vehicle can go, the size of the engine, and how easy it is to replace the parts are just a handful of things that can affect the cost of insurance.
Your location
Your ZIP code will help determine the insurance cost of your quad. That's because states have different minimum coverage requirements, and some neighborhoods may see more theft than others. The average distance you plan to drive the vehicle per year (e.g., taking it out once every few weeks versus driving it daily) can also factor into the cost of your policy.
Your experience
ATV insurance rates will differ depending on your amount of riding experience. New riders, or experienced riders with new vehicles, are more likely to have accidents than riders who are very familiar with their vehicle, and thus have a higher insurance cost.
Your driving history
If you're a responsible driver with no accidents or cited violations on your recent record (the past three to five years), your insurance rate may be lower.
Pro tip:
If you're an experienced, responsible driver with no ATV accidents or cited violations on your recent record (the past three to five years), your insurance rate may be lower.
Are there insurance discounts for ATVs?
Depending on both your circumstances and the policy carrier, you may be eligible for discounts. The following situations often warrant reduced ATV insurance rates and motorcycle insurance discounts for ATV insurance, depending on the insurer:
You're covering the cost of your annual policy in one payment.
You've completed an ATV safety course within the past three years. (You can check the DMV in your state for a list of approved courses.)
You're taking out insurance for your UTV or ATV in addition to a preexisting policy, like homeowners insurance or car insurance, with the same company.
How much does it cost to insure multiple ATVs?
You can often insure multiple ATVs under one policy at a discounted rate. And if you already have motorcycle insurance with one company, including Progressive, you can often add your ATV/UTV to that existing policy. Learn more about bundling insurance policies with Progressive and what ATV/UTV insurance covers.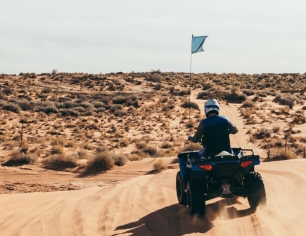 Forge your own path with an ATV insurance quote from Progressive