Can I buy a new car online and have it delivered?
Yes, buying a car online and contactless car delivery have both become popular options for buying new or used cars. Depending on the dealer, you may need to pay a per-mile or flat-rate delivery fee for orders not picked up in person. However, the dealer may also give you an extended test drive period to make sure you're satisfied with the car. As with in-person car purchases, you'll need to have an insurance policy and all relevant documents squared away before you can complete the transaction.
3 min to read
How does buying a car online work?
1. Determine your budget & gather paperwork
Just like purchasing a car in-person at a dealership, buying a car online means figuring out your budget and getting some paperwork together. Unless you're paying in cash, you'll need to determine what your budget allows for your monthly car loan payments, know your credit score beforehand, and get pre-approved for the loan. If you're trading in your current car, you'll also need to gather all relevant records and titles. You can also start quoting auto insurance if you don't already have a policy.
If you plan to finance your purchase, you should also figure out how much you want to spend on your down payment. Our car affordability calculator can help you estimate a down payment that works with your budget.
2. Shop around for the best price
Once you have your paperwork and an estimate of your desired budget, it's time to do some research. One benefit to shopping online is you're not limited to the models that a dealership might have on the lot on any given day. If you have a particular make and model in mind, you can choose a dealer — including those outside your immediate area — based on who's offering the best price. Cost-wise, bear in mind that while it is possible to purchase a vehicle out-of-state, sales tax will be applied based on the state in which you register the vehicle.
If you plan to finance your new car, you can also use this time to get pre-approved for an auto loan with your bank or other providers to compare interest rates.
3. Contact dealerships & check online retailers
If you're shopping local dealerships, you'll likely have to reach out to a salesperson, either by phone or email. If you're comfortable with it, you can use this time to negotiate, letting the salesperson know you're currently shopping around for the best price. You may also ask what interest rates they're offering to see how they stack up against your other loan offers. If you'd prefer to handle all aspects of the transaction online, be sure to check with the representative to confirm they offer that service; some require an in-person signature, such as for the bill of sale.
If you're browsing an online-only retailer like Carvana or Vroom, you typically won't be able to negotiate the price of the car. However, the buying experience itself may be faster than a traditional dealership. Online retailers may also offer financing options, so it may be worth comparing their interest rate versus any other loan estimates you've received.
How to safely buy a car online and avoid scams
As with any vehicle purchase, you should ensure the seller is legitimate. Using an established online car dealer, whether it's Carvana or a reputable local dealership, is a good way to avoid scams. Other useful tips include:
Always use check or credit card: Never use wire transfers to complete an online sale as there's no way to get your money back if the sale turns out to be fraudulent.
Talk to the sales agent: If you're buying through a dealership or other private dealer, you should contact the seller directly over the phone to confirm the details of the car and where they're located.
Take your time: If the seller is really pushing for the sale, take a step back and think over the deal. Scammers may pressure you in order to get your personal information or steal your down payment.
4. Take a test drive
If you're open to at least a partially in-person experience, then you can schedule test drives with local dealerships for any cars you have in mind. Select dealerships have curbside deliveries for both purchases and test drives. If you're buying a used car online, now is also a good time to ask for the VIN (Vehicle Identification Number) to get a detailed picture of its history, including previous damage, accidents, and even theft.
Many online-only retailers offer a couple of days or more to test drive your vehicle after purchasing it. If you decide to return it during that test drive window, you may receive a full refund.
5. Buy your new ride
Depending on the dealership, you may be able to buy your car entirely online. If that's the case, you'll e-sign the necessary paperwork and either pick up the car or schedule delivery to your home. With an online-only retailer, you'll e-sign as well and schedule a delivery date (though some may also offer local pickup options). Make sure you choose a delivery date/window where you'll be home, as someone typically needs to sign for the delivery. Note that there may be an additional fee if you choose home delivery, depending on the dealership or retailer.
What to expect after buying a car online
Delivery may take time: If you're buying from a local dealership or an online retailer with local inventory, then you might be able to schedule delivery within a few days or the same week. If your car is coming from outside your city or state, then it could take a week or longer to receive your vehicle. The dealer should confirm the exact delivery date with you.
Consider getting an inspection: When buying a used vehicle, it's a good idea to have a mechanic inspect the car for issues before finalizing the purchase. You can schedule an inspection during your test drive period, after your car is delivered. If the vehicle doesn't include a test drive period, then you should arrange a time with the seller to take it to your mechanic before making the purchase.
Register your car (if needed): If the dealer didn't register your vehicle for you, then you'll need to take the title, bill of sale, proof of insurance, and other documents to your local DMV to get it registered. Learn more about what you need to register a car.
Take a test drive & update your policy: If your car comes with a test drive period, drive it the way you will normally use it to ensure it meets all of your needs. If you aren't satisfied, you should be able to return the car for a full refund. But if you decide to keep it, the last thing you'll need to do is add it to your insurance policy.
Do I need auto insurance when I buy a car online?
In most states, when you're buying a new car, you'll need to have car insurance before you drive off the lot. When buying a car online, check your current auto insurance policy if you have one; it will likely grant you a seven- to 30-day grace period covering your new car to the same extent of coverage you had on your previous car. You need to notify your insurance company and add your new vehicle to your policy during that window. If you don't currently have a policy, nearly every state requires you obtain one before you purchase a car.
Learn about how insurance works for new cars.
What's the difference between buying a new vs. used car online?
The online buying process for new and used vehicles is mostly the same. However, if you're buying a used car online, you should make sure to look up the vehicle's VIN to verify its history, just as you would when buying a car in person. If you're weighing whether to buy a new or used vehicle, you should consider that a used vehicle may be lower in price and cost less to insure for physical damage. On the other hand, new vehicles typically have more safety features and may also have better financing options.
How to get car insurance
Go online
We ask easy questions, and you customize your coverages.
Get a car insurance quote
Call a rep
Talk with a licensed representative who can guide you through the process.
Call 1-866-749-7436
Through an agent
Connect with an independent agent in your area.
Find an agent online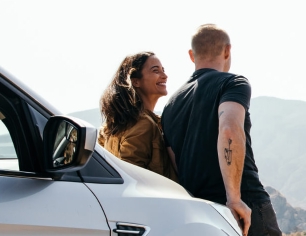 Quote car insurance online or give us a call