Can you buy life insurance for your parents?
Yes, you can typically buy life insurance on your parents if you meet certain requirements, but it's not something you can do without their knowledge or consent. In some cases, your parents may need to undergo a medical exam. As with shopping for your own life insurance, you'll have more options and a less expensive premium if you purchase the policy when the parent you're insuring is younger and healthier.
4 min to read
When am I allowed to buy life insurance for my parents?
You can typically buy life insurance for parents when you have "insurable interest." That's when you're the one who will be responsible for the financial consequences of your parent's death. Eligible financial responsibilities might include but aren't limited to:
Funeral services and burial/cremation costs
End-of-life medical expenses
Financial obligations for which you'd become responsible, such as inheriting your parents' house and thus their mortgage
Debts you co-signed on with your parents
Expenses related to caring for a surviving parent
Your life insurance company can help you determine exactly what qualifies you to take out a policy on your parent(s) and how you should provide proof. However, it would likely be easier for your parents to take out a life insurance policy themselves and name you as the life insurance beneficiary, if they're able. They'll need to go through a similar application without the added qualification of proving your insurable interest in them.
What else do I need to do to buy a life insurance policy for my parents?
You'll need consent from your parents before you purchase a life insurance policy on them. They will need to be legally competent to provide such consent. During the application, you'll also need to provide their Social Security number, name, and address.
Depending on the life insurance company and the types of life insurance plans you hope to purchase, your parents may be required to undergo a medical exam. The results of that exam will be shared with the life insurance company, and the insurer will use that information to determine your life insurance options, including the following:
The type of life insurance: If your parents are younger and healthier, the full range of life insurance policy options may be available. That includes term life, whole or universal life, and final expense policies.
Death benefit amount: With older parents who aren't in good health, your possible death benefit will be smaller. You may be limited to the amount equal to your insurable interest. For younger and healthier parents, you may qualify for policies with a larger death benefit.
Policy cost: Your life insurance cost will generally go up the older and less healthy your parents are when you apply. The rate won't factor in your age or health; it's only affected by the person being insured.
Learn more about term life insurance, whole life insurance and universal life insurance policies.
Pro tip:
Choose the beneficiary or beneficiaries of the policy carefully. As the purchaser of the policy, you'll be the policyowner and thus have the responsibility of setting yourself and/or other close loved ones as the beneficiaries. Your parents will be the "named insured" and won't be able to name or update the beneficiaries themselves.
How much life insurance is best for my parents?
That depends on which policies you qualify for, how much you can afford in premium payments, and the level of death benefit that makes sense for you. Buying a life insurance policy on your parents can offer you a safety net upon their death when you're dealing with their funeral services, final expenses, and any other details. To select the right level of coverage, consider what those costs might total, and compare them with the death benefit levels and premium you qualify for. Learn more about how much life insurance you need.
Get started with a life insurance quote
Online
You'll be asked questions, and then you'll choose your coverage amount and more.
Get a life insurance quote
Call a rep
A licensed representative from Progressive Life by eFinancial will talk you through your options.
Call 1-866-912-2477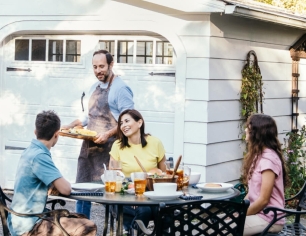 Get a free life insurance quote online in minutes