Should I buy a new or used ATV/UTV?
There's no one-size-fits-all answer about whether to buy a used ATV/UTV or a new one. Whether used or new is right for you will depend on personal factors like your budget, available sales incentives, your intended use for the vehicle, the features you want it to have, and more. When you buy used ATVs or UTVs, you'll also need to consider the vehicle's condition and what work it might need.
5 min to read
Should I buy an ATV or UTV?
Before shopping, you need to know what kind of vehicle suits your needs. While both are made to go off-road, ATVs and UTVs are quite different vehicles.
All-terrain vehicles (ATVs) offer an efficient way to get around outdoors and are great for solo riding, off-road trails, and making quick turns. Utility terrain vehicles (UTVs), also called side-by-sides (SXS), are intended more for specialized work than for recreation. UTVs are large and powerful vehicles that seat passengers side by side, and they're typically built with lots of storage space.
In general, you'll buy an ATV if you want to ride for fun, and you'll buy a UTV for off-road work like farm chores. Learn more about the difference between ATVs and UTVs.
UTV/ATV buying guide
Once you know which type of vehicle you want, your budget and the features you're looking for can help you decide whether you're better off buying a used ATV/UTV or a new one.
Features
Does the vehicle have all the features you want? Does it have headlights? Roll bars? If not, can you add them? Check out Rollick's ATV Accessories Guide to see what you might want. Ask yourself if you prefer to ride a certain way. Remember that UTVs ride more like cars with regular seating and a steering wheel, while ATVs ride like bikes with handlebars. If you're investing in a power sports vehicle, make sure it has everything you're looking for.
Budget
What's your budget? ATVs and UTVs can be pricey depending on what you're looking for and what features you add.
Condition
Now you're ready to start thinking about whether to buy new or used. Of course, ATVs and UTVs are at their best and in the best condition when brand new, but for some enthusiasts or hobbyists, buying a used one may be the best route. There are a few different ways to decide.
In some cases, budget and features may decide for you. Look at new ATVs or UTVs with the desired features and compare their cost to your budget. If you can afford a new vehicle that meets your needs, great! If you can't find one you like that's in your budget, you'll need to look at used vehicles to get the right balance of features and cost.
If buying new is important to you, but you're worried about budget, look for incentives on manufacturer's websites. Customer incentives typically include cash back rebates, low-interest financing offers, and other perks. These offers make buying ATVs and UTVs more affordable, but they vary depending on your region or dealership.
Finally, consider your experience level. If you're new to ATV or UTV riding, the safest thing to do is to buy a new one to avoid the problems that can come with a used vehicle, even one that's been well maintained.
If you're still unsure which is right for you, consider the pros and cons of new vs. used:
Used ATVs and UTVs might cost you more in repairs, while new ones won't
New ATVs and UTVs cost more than buying used
New ATVs and UTVs come with a warranty
Used ATVs and UTVs offer more room for negotiation in price
Pro tip:
Whether you buy new or used, your riding experience is an important factor when you're shopping for an ATV/UTV. Make sure the vehicle you choose is within your skill level to operate safely.
What to look for when buying a used ATV or UTV
Like buying a used car, you'll want to inspect a used ATV or UTV before committing. If you're new to power sports, consider taking a knowledgeable friend or family member with you to evaluate a used ATV or UTV for potential problems. Be sure to:
Check the tires for cracks
Evaluate the shocks and look for damage or leaks
Check for leaks anywhere in the engine
Check the brake pads for excessive wear
Watch out for loose or unstable tires
How to buy an ATV/UTV
Whether you decide to purchase new or used, the process for buying an ATV or UTV is the same.
Do your research
Know the value of the vehicle you want, before you head to the dealership or private party sale
The Progressive Outdoor Vehicle Buying Program is a great place to get started
If it's new, look for manufacturer and dealer offers or incentives
If buying a used ATV/UTV, do an inspection so you know what you're buying
Check monthly finance rates from dealers and lenders
Make sure you have the proper licensing
Whether you're looking for an ATV for fun or a UTV for specialized work, think about what you want, how much you can afford to spend, and then find out what's available in your area. In some cases, you may find that the new and used offerings aren't that different.
How to insure your new or used ATV/UTV with Progressive
Online
Answer easy questions, choose your coverages, and get the protection you need.
Quote ATV insurance online
Call a rep
Speak with a licensed representative who will help you through the entire process.
Call 1-855-347-3939
Through an agent
Get expert advice from a licensed independent agent near you.
Find an agent online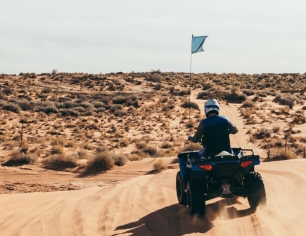 Forge your own path with an ATV insurance quote from Progressive