What's the difference between an ATV vs. a dirtbike?
Comparing dirt bikes vs. ATVs isn't an apples-to-apples comparison. Both have pros and cons that you'll need to weigh when deciding which is suitable for you. Consider factors like what kind of riding experience you want, how experienced a rider you are, and what kind of trails you want to explore. When it comes to dirt bike vs. ATV safety, each carries its own risk factors, which may also affect your decision.
3 min to read
How to choose between an ATV vs. dirtbike
Choosing the right vehicle for your off-roading adventures means understanding the pros and cons of dirt bikes vs. ATVs and vice versa. Here are four things to take into account to help you make the right choice:
1. Riding style
Both vehicles allow you to cruise unpaved trails, but many find that an ATV offers a smoother experience. That's due to the more comfortable riding position since you're sitting on the vehicle, making bumps and jolts from the trail less pronounced. If you're looking for a more thrilling ride, you may prefer the more active ride position of dirt bikes vs. ATV's more passive seat.
2. Rider skill
Vehicles with four wheels are more stable and easier to learn how to operate. When comparing a quad vs. a dirt bike, the quad has an easier learning curve, allowing you to get on the trail in less time. But taking the time to develop the motorcycle skills necessary to ride a dirt bike can make your first experiences on the trail more rewarding. Learn more about the difference between ATV vs. UTV.
3. Versatility on the trails
ATVs and dirt bikes offer freedom to explore but excel in different ways. Compared to dirt bikes, ATVs offer greater utility. You can use them to haul firewood or plow snow if you find your vehicle stuck after a winter ride.
Dirt bikes take the lead when comparing ATVs vs. dirt bikes for trail riding. They're smaller, more agile, and can navigate narrower pathways than an ATV.
4. Seasonality, storage, and maintenance
Generally, ATVs cost more than dirt bikes to buy and maintain. You'll also need more space to store them and a large vehicle to get them to the site. You can also get more ride time per year out of an ATV. Dirt bikes can be dangerous to ride in winter conditions whereas an ATV is equally at home in the snow.
Are dirt bikes safer than ATVs?
According to 2010 stats from the John Hopkins University School of Medicine, dirt bikes are involved in more accidents, but the results of those accidents are typically less severe. An ATV is statistically less likely to be involved in a crash but it's more likely to be deadly if a crash occurs.
This is partially due to differences in ATV vs. motorcycle helmet use. ATVs also weigh considerably more than dirt bikes, so accidents resulting in rolling an ATV can cause severe trauma. According to the Insurance Institute for Highway Safety (IIHS), 64% of riders killed in single-vehicle crashes involved the ATV rolling over.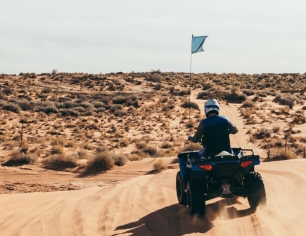 Forge your own path with an ATV insurance quote from Progressive