I hit a tree — will my car insurance cover it?
If you hit a tree with your car, your collision coverage should cover any physical damage to your vehicle, minus your deductible and up to your vehicle's cash value. Your liability insurance will also help pay for any injuries or property damage caused to another person and/or property. However, if do you not carry collision coverage or additional medical payments coverage, you will be responsible for the cost to repair or replace your vehicle out-of-pocket and will need to pay for any medical costs you personally incurred from the accident.
5 min to read
What happens if you crash into a tree?
A car crashing into a tree can result in minor damage or a completely totaled vehicle depending on the speed of the crash and the angle of impact, among other factors. If your car hits a tree while traveling at a high speed, the car has a higher likelihood of being totaled.
Hitting a tree with your car can also result in injuries to the driver and passengers of the vehicle. While a basic liability policy will cover the medical expenses incurred by someone else in the accident, you'll need additional medical payments coverage to help with any personal medical costs associated with the accident.
If your car crashes into a tree and you damage the tree itself, you may also be responsible for removing and/or replacing the tree and fixing any surrounding damage (ruined grass from tread marks, etc.). In many cases, your property damage liability coverage will pay for these costs, up to your coverage limits.
When does insurance not cover a car crashing into a tree?
Some exclusions may apply to your collision coverage if you hit a tree, including:
Intentional damage: If your insurer can prove that you hit a tree on purpose, your claim may be denied. Intentional damage is almost always excluded from insurance coverage.
Racing: If you are racing your vehicle and swerve into a tree, your claim will likely be denied.
Commercial use: Most standard car insurance policies exclude coverage if you use your vehicle for commercial purposes, such as delivery or rideshare work. For example, if you are delivering pizzas or groceries when you hit a tree, the damage may not be covered.
What should I do if I hit a tree?
If you hit a tree with your car, follow these steps:
Check for injuries: Immediately check for injuries and see if anyone in the vehicle is seriously injured. You may need to call an ambulance if someone is seriously wounded.
Call the police: Call the police after checking for injuries. If you leave the scene without notifying the police or the owner of the tree, you may be committing a hit-and-run. Wait for the police to arrive and answer any questions about the incident. If you hit a tree on your own property, you may not need to contact the police.
Document the scene: Document the accident with photos of damage to your vehicle and the tree. If you decide to file a claim, this information will be necessary to include.
Notify the owner: If possible, notify the property owner about the accident and any damage to the tree. If the owner is not around, leave a note with your contact information. If the tree is on public property, the police can likely notify the city about the tree damage.
File a claim: Once you get the car back home or to a repair shop, decide whether to file an auto insurance claim with your insurer after assessing the damage. To file a claim, you'll need to provide the location of the accident and photos of the damage to your vehicle and the tree.
How will my car be fixed after hitting a tree?
If you carry collision coverage on your auto policy, your insurance company may send out an adjuster to examine the damage and determine the cost to repair or replace your vehicle. From there, you may receive a check to cover the cost of repairing your vehicle, minus your deductible, or your insurer may ask you to take your car to a designated shop to be repaired.
If the car is deemed a "total loss" by your insurer, it means that the cost to repair the vehicle is more than the car's actual cash value. In this case, the insurer will payout the car's actual cash value, minus your deductible, instead of paying to repair the vehicle.
How to prevent hitting a tree with your car
Here are a few tips to keep your vehicle on the road and away from trees:
Avoid distracted driving: Minimize distractions by turning off your phone or putting it on silent. Avoid multitasking and keep your eyes focused on the road.
Avoid driving in poor conditions: If possible, stay home when the roads and weather are bad. If you must travel, slow down, avoid hard braking, and allow plenty of space between you and the car in front of you.
Swerving to miss an animal: This is frequently a reason people hit a tree with their vehicle. Be sure to slow down in areas where animal strikes are possible and stay alert.
Backup safely: It can be easy to back into a tree in a driveway or parking lot. For newer cars, use your backup camera and warning systems to safely drive in reverse. For older cars, backup slowly and carefully.
How to add collision coverage
Go online
We ask easy questions, and you customize your coverages.
Get a car insurance quote
Call a rep
Talk with a licensed representative who can guide you through the process.
Call 1-866-749-7436
Through an agent
Connect with an independent agent in your area.
Find an agent online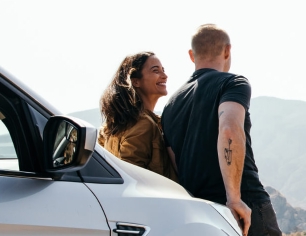 Quote car insurance online or give us a call