Does distracted driving increase insurance rates?
If you get a ticket for texting or another form of distracted driving, it's possible your insurance rate could increase. Whether or not you see an increase depends on your state and insurer. For example, some states prohibit insurance companies from factoring texting and driving tickets into their rates. Ultimately, it's best to avoid using your cell phone while driving for both your safety and the safety of other drivers on the road.
3 min to read
What is distracted driving?
Distracted driving is any action that involves taking your attention away from the road and towards something else in your car. The biggest cause of distracted driving is usually your cell phone. Whether you look down for a split second to answer a call or send a text message while sitting at a stoplight, it's all considered distracted driving.
How many states have laws against distracted driving?
As cell phones have grown in popularity, states have reacted by putting laws in place to reduce distracted driving. Even though there isn't a federal law against distracted driving, 48 states have passed a law banning texting and driving. Twenty-four states have gone even further and completely banned handheld cell phone use while driving. The penalties for breaking one of these laws can range from fines to a license suspension.
Does texting while driving affect insurance rates?
It ultimately depends on the laws in your state. If you get a ticket for distracted driving, including texting and driving, there's a chance you could see your insurance rate go up. However, some states don't allow insurers to include texting and driving tickets as a factor when setting rates. In states where insurers can consider texting tickets, insurers may treat them as minor moving violations, which could cause your rate to increase.
Why is it important to avoid distracted driving?
Distracted driving is risky behavior that has the potential to result in a serious wreck. According to the National Highway Traffic Safety Administration (NHTSA), looking down to read a text is the equivalent of driving blind. Even if it's only for a couple of seconds, you have no way of knowing if someone just slammed on their brakes or pulled out in front of you. In order to drive safely, it's important to avoid common distracted driving scenarios like texting and driving, talking on the phone while holding it in your hand, and putting on makeup in the car.
Distracted driving solutions
Some car companies have developed technology to stop texting and driving, such as cellphone blocking, which will prevent texts from coming through while you're driving. And there are devices and apps available to disable cell phones while driving.
Drivers can also take simple steps to stay alert on the road. Purchasing a cell phone mount for your vehicle will keep your phone out of your hands and allow you to safely take calls and use navigational apps. Many newer vehicles also make it easy to sync your cell phone to your car so you can take calls, listen to music, and hear texts without tying up your hands. If it's difficult to stay away from texting, consider tucking away your phone in a purse or bag so it's not accessible until you're done driving.
Whatever distracted driving solutions you decide to try, it's critical to keep your hands free and your eyes on the road to avoid accidents.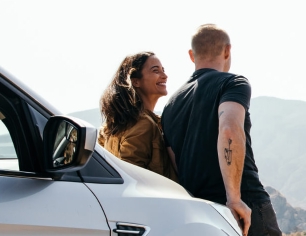 Quote car insurance online or give us a call