Do convertibles cost more to insure?
The insurance rate for a convertible may be higher for physical damage coverage than an equivalent vehicle with a hard top. The cost of insurance for a convertible car may come down to their higher purchase price, as well as convertibles' greater vulnerability to theft.
2 min to read
Why are convertibles more expensive to insure?
A convertible may cost more to insure because of the higher purchase price it carries. In general, vehicles with a high price tag will cost more to repair or replace, so insurers charge more to cover the higher cost of a potential physical damage claim. This is why insurance for sports cars tends to be higher too.
Convertibles are often seen as easy targets for car theft, too. A thief can easily remove items out of a convertible or access the ignition if the top is down. Although roofing materials tend to protect the vehicle, there's an increased risk of leaks and exposure to the elements in a convertible versus a hardtop vehicle. Leaks can cause damage to seats and promote mold and mildew growth inside the vehicle. Learn more about how car insurance covers theft.
Pro tip:
Safety may or may not play a role when it comes to insurance rates for convertibles. According to the Insurance Institute for Highway Safety - Highway Loss Data Institute (IIHS-HLDI), modern convertibles show no statistical difference in safety versus non-convertible vehicles, but there are some additional risks associated with them. A 2020 study by IIHS-HLDI showed that 21% of convertible drivers who died in a crash were ejected from their vehicle, versus 17% for non-convertible cars. The risk of ejection was also greater in rollover accidents (43% vs. 35%).
Online
Answer some easy questions and choose coverages.
Quote auto insurance online
Call us
A licensed representative will answer any questions you have.
Call 1-866-749-7436
Ask an agent
Need local advice? We'll connect you with a licensed independent agent near you.
Find an agent online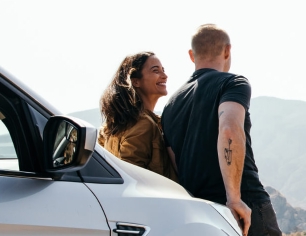 Quote car insurance online or give us a call