Does a fence increase property value?
It can, but not always. The construction and material of the fence, the reason for adding one, and the area where you live factor into the value a fence adds to your home. A fence can increase value to your home by adding curb appeal if it enhances the visual appeal or some other aspect of your home, such as adding privacy. Significantly improving security may also add more value where break-ins are common.
3 min to read
Reasons to add a fence
The best types of fences for homes may add value and be used to mark and beautify property lines, increase security, keep pets and children away from the street, block ambient sound, and reduce wind and sun exposure to lower costs of heating and cooling the house.
Common reasons to install a fence include:
Privacy and security
Creating a safe space for pets or children
Aesthetic or improving curb appeal
Dampening sound
Reducing utility bills
Learn about how homeowners insurance covers fences.
What are the different kinds of fences and their benefits?
Fence options vary according to the material used to make the fence. Wood and metal are common and traditional fence types and fence options. Composite and vinyl are more modern fence choices. Metal fences are further subdivided into steel/decorative metal, aluminum, and chain-link fences, offering distinct advantages.
Wood
Wood fences vary from classic picket fences to taller, continuous-coverage privacy fences. Easy to work with, wood offers many different style options and is one of the more versatile fence options. Wood is comparatively inexpensive, and for DIYers with the right skill set, wood fences can be an even more affordable option since the homeowner can install them.
Decorative metal
Many modern decorative metal fences — those that feature scrollwork or other kinds of ornamentation — are made of steel. These fences can increase the curb appeal and offer different kind of fence aesthetic option. Steel is generally a good material for adding security to a property, but some designs are better for security than others. Steel fences usually require professional installation, making them a more expensive option but don't need as much maintenance as wood.
Aluminum
Aluminum fences offer many benefits of decorative metal fences without the same aesthetic charm. They are lightweight, easy to maintain, good for delineating spaces, and a competent DIYer may install them to lower costs. They aren't usually available with continuous coverage, making them a poor choice for privacy.
Chain link
Chain-link fences are simple to install and one of the most inexpensive fence types. They can be used to delineate space, mark property lines, and keep pets and children from leaving the property. They don't contribute to the curb appeal and don't add much security as they could be easy to climb.
Composite
Composite materials — a mix of wood and plastic — are low maintenance, durable, and available in various colors and designs to complement any home. They tend to be expensive, though, and can't be painted — meaning that they may add less value to a home over time as the color fades or the surface becomes damaged.
Vinyl
One of the more expensive materials available and one of the best, vinyl fences are well-suited to any of the common reasons for installing a fence and require little maintenance. They can offer privacy, security, and wind and sound reduction.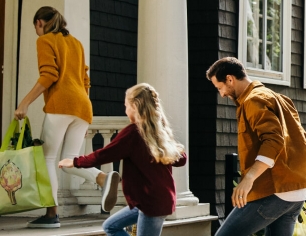 Quote homeowners insurance online or call for advice