Do you need camera insurance?
If you have a high-end camera and expensive accessories, camera insurance can protect your budget from pricey repairs or replacements. Standard homeowners and renters policies might provide coverage for your photography equipment and accessories damaged or destroyed by covered perils like theft and fire, but your claim payment could be limited by your policy's deductible and sub-limits. A camera insurance policy from an electronic device insurer can offer extra protection from accidental drops and water damage, and the deductible is likely to be more budget-friendly.
4 min to read
What is camera insurance?
Often a type of electronic device insurance, a camera insurance policy can cover photography and videography equipment for repairs and replacements caused by a variety of perils. Camera insurance isn't limited to high-end models; you can typically get a camera insurance policy for anything from a simple point-and-shoot camera to a mirrorless camera or professional-grade DSLR. Camera insurance may also protect your camera equipment, including:
The main body of the camera
LCD screen
Lenses
External flashes
Shutter mechanisms
Camera batteries
Is camera insurance worth it?
The average electronic device repair claim payout is $398.71 with Worth Ave Group. Compared to the cost to repair the delicate components of your camera, a policy might save you hundreds of dollars. Camera insurance can also provide you with the reassurance to carry your camera regularly, enabling you to capture more.
What does camera insurance cover?
Camera insurance protects your devices from unexpected accidents and perils, regardless of whether they occur at home, in a public park, or abroad. Covered mishaps and incidents include:
Theft
Accidental drops
Water damage
Power surges from lightning
Vandalism
How much does camera insurance cost?
Insurance for $199 worth of camera equipment costs as low as $2.80 per month with Progressive Electronic Device Insurance by Worth Ave. Group.* Your premium will ultimately depend on how much coverage you want. If you file a claim with Worth Ave. for a covered camera repair or replacement, you'll pay a $50 deductible and insurance will pay out the rest of the bill up to the insured value.
Pro tip:
In addition to camera insurance, remember to use the appropriate accessories to keep your camera and lenses safe. Avoid scratching the camera's body or lenses by using a camera bag and lens cap whenever you're not snapping photos. Add a neck strap to reduce the risk of dropping your camera.
Is my camera covered under my homeowners or renters insurance policy?
Your homeowners insurance or renters insurance policy may provide coverage for your camera and related equipment in certain circumstances. You may file a claim for damages caused by covered perils such as fire and theft. However, your insurance typically won't cover your camera and accessories for accidents like drops and water damage.
Consider your deductible when filing a claim with your home or renters insurance. Personal property deductibles are often $500 or higher — up to $5,000 or more if it's based on a percentage of your dwelling coverage. So if your deductible is $1,000 and you file a claim to have $1,300 in camera repairs done, you'll have to pay $1,000, and the insurer would pay out the remaining $300 (if there's not a sub-limit).
You could consider paying an additional premium to add a rider, also known as an endorsement, to your homeowners or renters insurance policy for your camera and related equipment. Riders typically don't have a deductible, and they might protect your camera from more incidents than the primary policy.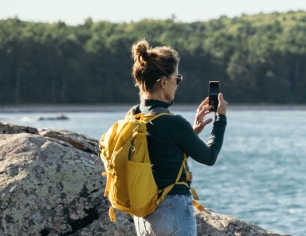 Get a free quote for insuring your phone or electronic device