Does homeowners insurance cover fire damage?
Homeowners, condo, and renters insurance may cover damage from fire to your home and belongings, up to the limits of your policy and minus any deductible. Note that fire damage to your car and other motor vehicles is covered under comprehensive coverage on your motor vehicle policy.
4 min to read
How does homeowners insurance cover fire?
Your home insurance policy may protect your home (including sheds, free-standing garages, and fences) and personal property against damage from an electrical fire, a fire pit or fireplace mishap, or other accidental fires. Policies may also cover damaged trees, shrubs, plants, or landscaping. If you're temporarily displaced from your residence due to fire, you may also be covered for additional living expenses, such as lodging and meals, above what you'd normally spend.
On a standard homeowners insurance policy, you may be protected against fire under the following homeowners insurance coverages:
Dwelling
If a fire destroys or partially damages your home, dwelling coverage may pay to rebuild or repair the home. Your insurance policy may also provide additional coverage to remove any debris, rubble, or collapsed sections of the dwelling.
Other structures
If fire damages or destroys a detached garage, barn, tool shed, or any other structure on your property that isn't attached to your home and not used for business purposes, other structures coverage may pay to rebuild or repair those structures.
Personal property
Personal property coverage may pay to repair or replace your personal belongings damaged or destroyed in a fire, such as furniture, clothing, and electronics. Your belongings are covered up to the limits of your personal property coverage and minus any deductible. For certain items such as collectibles, money/coins, and personal records, your policy may contain a sublimit (which provides a specific maximum coverage amount), so check your policy or contact your insurer for details.
Additional living expenses
If there's a fire and you're unable to live in your home, loss of use coverage may pay for an increase in necessary expenses associated with living elsewhere, such as your hotel stay, while your home is being repaired or rebuilt. Suppose you typically spend $250 per week on groceries but must now spend $400 dining out. Loss of use may cover the $150 difference.
How does condo insurance cover fire?
Because a condominium is a shared living environment, coverage against fire may be more complicated. Condo insurance may protect your condo (dwelling) and personal property from fire damage. Whether you're covered by your own policy or by the condo association's insurance policy may vary based on the situation and parties involved.
Your condo association (also known as your homeowners association or HOA) will typically only cover damage to the exterior of your condo. However, your own insurance policy may cover damages to the interior, like drywall, cabinets, countertops, or flooring. The condo association's policy also won't cover your belongings, so make sure you have adequate personal property coverage under your condo insurance policy. Like homeowners insurance, coverage for additional living expenses may pay for temporary housing and meal expenses, above what you'd normally spend, while your condo is being rebuilt or repaired.
Contact your condo association to find out more specifics about coverage in the event of a fire.
How does renters insurance cover fire?
If you're renting, your landlord is responsible for insuring your residence's structure. Assuming the fire wasn't started intentionally, renters insurance may cover your damaged belongings, up to your policy's limits and minus any deductible.
If there's a fire and you're forced to move, your renters policy may cover your additional living expenses while your landlord rebuilds or repairs your residence. At ASI, one of the insurers in Progressive's network and part of its family of companies, you're covered up to 40% of your policy's personal property limit (other insurers may have different limits). That means if you have $100,000 in personal property coverage, you may receive up to $40,000 for incidentals like hotel stays, meals, and other increases in living expenses.
How does car insurance cover fire damage?
If your car catches fire, your auto policy's comprehensive coverage can pay to repair or replace your vehicle if it's damaged in a fire, including a garage fire. Auto insurance rarely covers mechanical problems — however, fire can be an exception. You may be covered if your engine catches fire as a result of a mechanical issue.
Pro tips
The National Fire Protection Association suggests placing smoke alarms on every level of your home, inside each bedroom, and outside all sleeping areas. Make sure to test the smoke detectors once a month and put a fire escape plan in place for you and your family. In case of an actual fire, don't worry about any of your possessions — that's what your insurance is for. It's more important that you and your loved ones exit the home safely.
Depending on your insurer, you may get extra savings for having a sprinkler system, smoke detectors, or if your home is within 1,000 feet of a fire hydrant or five miles of a fire station.
Before a fire happens, ensure that you and your family know the fire prevention and safety tips for your home.
Protect your home and property against fire with Progressive
Online
Answer questions about your property and then customize your coverage to your needs.
Quote home insurance
Call a rep
Talk to a licensed representative who can answer your questions.
Call 1-866-749-7436
Through an agent
Talk to an independent agent about your options.
Find an agent online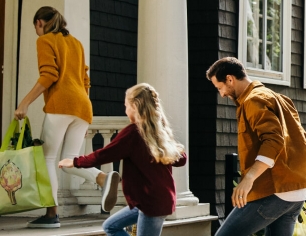 Quote homeowners insurance online or call for advice