Do golf carts have titles?
Most golf carts don't have titles because the authorities do not allow then to be driven on public roads. All golf carts have serial numbers which allow their owners to individually identify them. The only time you'd get a title for a golf cart is if it's converted to a low-speed vehicle (LSV). In most cases, this would only allow you to drive the golf cart on public roads with a maximum speed limit of 25 mph.
2 min to read
Is a title issued for a golf cart?
When you purchase a golf cart, you won't receive a title because most golf cart manufacturers do not build them for people to drive them on public roads. When you buy a golf cart from a dealership, you'll receive paperwork to document your purchase and ownership.
If you buy a used golf cart from a private party, you should ask for a bill of sale to document the purchase. Here are a few important items that should appear on a bill of sale.
Year, make, and model
Description of golf cart
Serial number
Date of sale and purchase price
Names, addresses, and signatures of the buyer and the seller
Having a bill of sale is useful in case of theft to prove ownership and help the police with an investigation. Learn more about golf cart theft prevention.
When does a golf cart have a title?
A golf cart will only need a title if converted to a low-speed vehicle (LSV). A low-speed vehicle is a street-legal vehicle that you can drive on public roads. Check with your state's Department of Motor Vehicles (DMV) for their specific regulations about the kinds of roads on which you can drive an LSV.
Since LSVs usually have a top speed of 20-25 mph, you'll only be allowed to drive them on roads with the same maximum speed limits.
What is required to convert a golf cart to a low-speed vehicle?
Check with the DMV to determine the laws where you live. If your golf cart meets all the requirements of a street-legal LSV, you can go to your nearest DMV office and apply for a certificate of title. They'll provide specific instructions regarding the paperwork required to prove ownership and LSV modifications.
Most regulations include having:
Headlights, taillights, brake lights, and blinking turn indicator lights
Driver's side, passenger side, and rear-view mirrors
Seat belts for all passengers
A windshield
A horn
A low-speed vehicle sign
Insurance requirements for golf carts vary by state, but golf cart insurance can help protect you and your vehicle. Learn more about how much golf cart insurance costs and what golf cart insurance covers.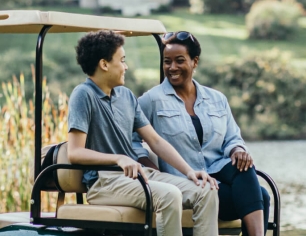 Cruise around in style with golf cart insurance from Progressive