What does golf cart insurance cover?
Golf cart insurance shares similarities with car insurance regarding the types of coverages you can obtain. Those coverages include property damage liability, bodily injury liability, comprehensive and collision coverage, and medical payment insurance. Golf cart insurance is usually a separate policy from your homeowners insurance or car insurance policy.
3 min to read
Golf cart insurance coverages
Golf cart coverages are similar to the options on your car insurance policy. Those options include:
Property damage liability: In the event of an accident caused by you that damages someone else's property, property damage coverage may cover the damages.
Bodily injury liability: If you cause an accident that injures you or someone else, bodily injury coverage may pay for the necessary medical bills.
Collision: Collision coverage may pay for repairs if you're in an accident that causes damage to your golf cart.
Comprehensive: Comprehensive coverage covers loss or damage caused by anything out of your control, such as theft, fire, or being struck by an object like a fallen tree.
Uninsured motorist: Uninsured motorist coverage covers you if someone hits you without the proper insurance to cover the cost of the damage or injuries you sustained.
Do I need golf cart liability insurance?
If you own your golf cart, there's a good chance that you use it for more than getting around the golf course. Many golf cart owners treat their cart as a secondary mode of transportation for getting around their neighborhood, taking light shopping trips, or getting to and from the golf course. But if you drive your golf cart on the road in some states or towns, insurance is required.
Even if it's not required, it's a good idea to get golf cart insurance. According to the American Journal of Preventive Medicine, during their study period from 1990 to 2006, there were nearly 150,000 injuries involving golf carts that required medical attention in the emergency room. The report also found that the number of injuries increased each year.
Does car insurance cover golf cart accidents?
A standard car insurance policy probably won't cover your golf cart. Most golf carts aren't classified as cars, but in some cases can be classified as Low-Speed Vehicles, a separate class of transportation.
Is a golf cart covered under homeowners insurance?
A golf cart may be covered under your homeowners insurance policy while it is on your property. However, once you leave your property, most homeowners insurance will no longer cover your golf cart. Most homeowners insurance policies won't cover a golf cart that's registered to be driven on roads.
How to insure a golf cart
You can buy a separate golf cart insurance policy to cover your golf cart. If you already have car or homeowners insurance, you may be able to bundle your golf cart insurance with your existing coverage to save money.
If you're going to drive your golf cart on public streets, you may be able to buy a policy that's modified motorcycle insurance coverage. Keep in mind that many states and municipalities have laws regarding the streets you're allowed to drive on in a golf cart. Those laws usually restrict the maximum speed limit a road can have for legal golf cart usage.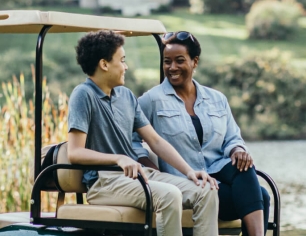 Cruise around in style with golf cart insurance from Progressive