What is high-risk auto insurance?
Some insurance companies may view certain drivers with a high probability for auto accidents as "high risk." While most insurers, including Progressive, may charge higher premiums for inexperienced drivers or drivers prone to accidents, there is no such term as a "high-risk auto insurance policy" at Progressive.
2 min to read
Insurance for high-risk drivers
Auto insurance for high-risk drivers is typically attainable, but they can often expect to pay higher rates compared to low-risk drivers. If you have a history of accidents or violations and an auto insurance company declines to offer you a policy, you may still get coverage from a different insurer. Each insurer has a different determination for what risks are acceptable, and these parameters may change.
What are some characteristics of high-risk drivers?
Some insurers may consider you a high-risk for an auto accident if you have any of the following:
At-fault or no-fault accidents on your motor vehicle report
Traffic violations, including a DUI or DWI
Multiple comprehensive claims
Lack of driving experience
No history of auto insurance
How long are you considered a high-risk driver?
Traffic violations, such as speeding, typically remain on your driving record for 3-5 years, depending on your state. At-fault accidents, DUI convictions, and other more serious violations may be considered for five years or more, depending on your insurer and state. However, there is no standard definition for what constitutes a "high risk driver"; the amount of risk represented by a driver is subjective and varies per insurer. At Progressive, the term "high-risk" is not a label that will be formally assigned to a driver.
Get auto insurance for high-risk drivers
Online
Answer some easy questions and choose coverages.
Quote auto insurance online
Call us
A licensed representative will answer any questions you have.
Call 1-866-749-7436
Ask an agent
Need local advice? We'll connect you with a licensed independent agent near you.
Find an agent online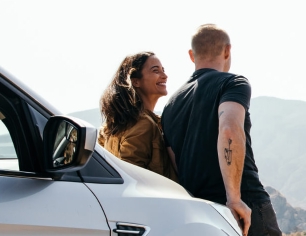 Quote car insurance online or give us a call