Do single people need life insurance?
Life insurance for a single person can still protect those you care about from financial burdens after you pass, particularly if you have private student loans, a mortgage, a business, or dependents. Your life insurance needs will depend on your financial circumstances and any burdens that could be passed to others upon your death.
4 min to read
Why is life insurance important for a single person?
Even if you're single, life insurance can protect others from financial burdens that could be brought on by your passing. Plus, life insurance rates for a young person are generally lower than they are for other customers. Since life insurance policies can last anywhere from 10 years to your entire life, getting life insurance while you're single and young could let you access lower rates and longer terms, which could be especially helpful if you were already planning to get life insurance further down the line.
What situations make it worth getting life insurance if you're single?
You might know to get a life insurance policy when you have others relying on you day to day, but what about when it's just you? If you fall into any of the following categories, consider if life insurance is worth getting when you're single:
You want to cover your final expenses
Life insurance can be a way to support your loved ones after you're gone by paying for your funeral and other end-of-life expenses. A permanent life insurance policy, such as whole life insurance, is more affordable if you purchase it when you're young, and it will last until you die, potentially guaranteeing there are funds to pay for your funeral. If you're older, final expense insurance is available to individuals well into their 70s and 80s, and it's designed to cover your end-of-life expenses so your estate isn't burdened with those costs.
You're young with a family history of health issues
If there's a possibility that you could develop a serious health issue later in life, getting life insurance while you're still young and single can be a way to qualify for a more affordable policy than you would if you waited until you were older and less healthy. Plus, it may provide you and your loved ones with the ability to pay for medical costs, particularly if you get a critical or chronic illness rider or a long-term care rider.
You have a mortgage
If you're currently single with a mortgage on your home, having a life insurance policy for the duration of your loan can help the person you leave your home to make the remaining mortgage payments. It could be even more beneficial if someone else signed the mortgage with you, as the remaining debt would fall to them and they may not have expected to be responsible for those payments. In either case, term life insurance can provide coverage until your mortgage is completely paid off, depending on the term length you qualify for.
You're paying off student loans
If family members helped you obtain your college loans, it may be worth considering a life insurance policy to assist them in case you were to pass away unexpectedly. Even though federal student loans are typically forgiven upon the borrower's death, that isn't always the case for private student loans. Upon your passing, the financial responsibility may fall to your co-signer. Having a life insurance policy can help cover the remaining payments if the unexpected happens.
You're supporting another family member
Life insurance can be beneficial to financial dependents other than a spouse or child. If you're single but supporting your parents, grandparents, or other loved ones, a life insurance policy could help provide for them if you were to pass away unexpectedly.
You're a small business owner
If you're an entrepreneur, having a life insurance policy with the beneficiary set as your partner(s) or the organization can help keep the business running when you pass. The death benefit could be used to hire someone to replace you, allow your partner(s) to buy remaining shares, or provide for employees if performance takes a turn.
Pro tip:
If you're a small business owner, term life insurance can provide an affordable way for your business to secure funds in the event of your death. Depending on your eligibility, you could set a term policy to expire after the number of years you expect to remain an owner.
You want to leave a legacy
Life insurance isn't just for providing for family; it can be a way for you to leave a legacy when you pass away. Naming an organization you care about as your life insurance beneficiary would allow you to make a large donation when you pass away, and you can even split your death benefit between multiple people and organizations.
How to get life insurance through Progressive
Get a life insurance quote online or call 1-866-912-2477 to speak with a licensed representative from Progressive Life by eFinancial who can help you find the right policy for you.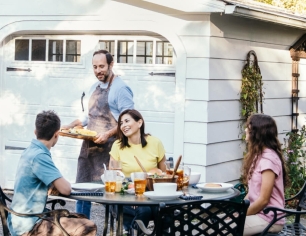 Get a free life insurance quote online in minutes