Does motorcycle insurance cover other riders?
Sometimes. It depends on the circumstances of the accident and the details of your policy. If the other driver is at fault, their insurance should pay for your passenger's injuries. However, if you cause the accident, you'll need to check your policy to see if you have coverage for your passenger's injuries. Some states require passenger liability insurance as part of your own liability insurance, while others offer it as a policy add-on. Other coverages like medical payments or personal injury protection may also cover medical expenses for you and your passenger, regardless of fault.
3 min to read
Which motorcycle insurance coverages protect passengers?
Several kinds of coverage can protect your passenger: medical payments, personal injury protection (PIP), uninsured/underinsured motorist (UM/UIM), and guest passenger liability coverage.
Medical payments coverage
Medical payments coverage pays for injuries sustained by either you or your passenger, no matter who was at fault for the accident. Learn more about medical payments coverage.
Personal injury protection
Personal injury protection can cover medical bills and other injury-related costs like lost wages, childcare expenses, and more, depending on your state, no matter who was at fault. Personal injury protection protects both you and your passenger.
Uninsured/underinsured motorist
Uninsured/underinsured motorist helps protect you when another driver causes an accident but doesn't have enough insurance to pay for the damages. Uninsured motorist coverage for your motorcycle can cover property damage (repairs to your bike) and bodily injury (medical expenses for both you and your passenger). However, it kicks in only when the other driver is deemed at fault and can't pay for the damages.
Guest passenger liability
Guest passenger liability is a form of liability coverage that protects your passenger when you cause an accident and you are legally responsible for your passenger's medical expenses. It may be included as part of, or in addition to, the required bodily injury coverage, and like other kinds of liability insurance, it can't pay for injuries you sustain, and it only applies if you're the one at fault for the accident.
How do I know if I have passenger liability insurance?
Some states require this coverage as part of a standard liability policy, and some don't. Ask your agent or insurer if it's required where you live. In states where passenger liability coverage is mandatory, it'll be included on any policy, whether or not it's listed separately. If it's not required in your state, you can usually add it to your policy, and it should be listed in your policy as a separate coverage. Learn more about motorcycle insurance requirements by state.
How do I know which coverage I should get for my passengers?
Start by figuring out what your state requires. Mandatory coverages, including guest passenger liability, will be included in any policy sold in your state. If your policy automatically includes guest passenger liability insurance, for example, you don't need to decide whether to buy it, but rather you need to decide on limits. Once you know your state's requirements, ask yourself if you want optional coverages like medical payments or UM/UIM (if optional in your state).
Since motorcycle injuries are often more severe than injuries from car crashes, you'll need to think about what you could afford to pay if you or your passengers are injured in an accident.
Get the right motorcycle insurance coverage from Progressive
New Progressive customers
Call 1-866-749-7436 or quote motorcycle insurance online and we can help you choose the right coverage for your needs.
Current Progressive customers
Log in to your policy or call us at 1-866-749-7436 and make changes to your policy if you need to.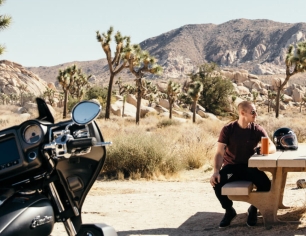 Enjoy life on two wheels with motorcycle insurance from Progressive