Should you get pet insurance?
Getting pet insurance should depend on the details of your situation, but for many pet parents, the benefits of pet insurance outweigh the costs. Deciding if you need pet insurance comes down to a clear understanding of your options, your particular pet's risks, and your budget.
3 min to read
What are the benefits of pet insurance?
Pet insurance provides the key benefit of helping you pay your pet's medical bills. In exchange for paying your pet insurance policy's premium, you can be reimbursed for your pet's covered veterinary costs according to the terms of your plan. Having dog insurance or cat insurance can provide peace of mind that you'll be able to get your pet the care they need when they get hurt or sick.
Here are some additional benefits specific to Progressive Pet Insurance by Pets Best:
Coverage options: Choose accident-only coverage or accident and illness (comprehensive) coverage. Learn more about pet insurance coverage options with Progressive Pet Insurance by Pets Best.
Preventative care: While preventative care isn't covered by most pet insurance policies, you can add an optional routine care plan to your Pets Best comprehensive policy.
24/7 vet helpline: Get answers to your questions any time of day. This is especially helpful when your furry family member experiences a health issue outside of your vet's usual hours.
No age limit: There's no upper age limit for pets.
Use your own vet: You can use any licensed veterinarian in the U.S. or Canada, including specialty and emergency clinics.
Mobile app: Use the Pets Best mobile app to submit claims, add pets, adjust your policy, and more.
Direct deposit: Sign up for direct deposit to get reimbursement once your claim has processed.
One annual deductible: Meet your deductible just once per year instead of every time you make a claim.
Customized payments: With a comprehensive plan, you can choose the deductible amount and reimbursement percentage (70%, 80%, or 90% of covered costs) that fits your budget. You can also choose to pay your bill monthly, quarterly, or annually.
Unlimited plans: You can opt for a plan with no annual limit on coverage.
Do I need pet insurance?
Pet insurance isn't required, but the cost of pet insurance can quickly become worth it when an expensive vet bill comes up. Consider the cost of some common surgical procedures:
Foreign object removal: Cost ranges from $800 to $3,500, depending on the specific procedure required, according to Wag! .
Eye surgery (enucleation) : Pets, especially cats, with severe eye damage may need to have their eye removed — a procedure that can cost $600 to $1,000.
CCL (ACL) surgery: CCL (the canine equivalent of an ACL in humans) repairs are a common surgery for active dog breeds and can cost anywhere from $2,000 to $4,000, according to CareCredit.
In comparison, Progressive's pet policies through Pets Best are particularly affordable, starting at less than $1 per day for a comprehensive plan.* Learn more about how pet insurance covers surgery costs.
Should I get pet insurance?
When you're deciding if you need pet insurance, consider these factors:
Your pet's age: While not all insurers offer policies to senior pets, Pets Best does. However, pet insurance rates tend to go up as pets age, so you'll access the most affordable rate when your pet is young. Plus, pet insurance doesn't cover pre-existing conditions, so getting pet insurance early in your pet's life before health issues have presented themselves can get you the most coverage.
Your pet's breed: When considering if you should get insurance for your pet, learn about the breed, including the common health problems they may face and how expensive treatment may be. For example, purebred pets — especially those bred for a special appearance — can be prone to genetic disorders and health problems. They can also be more prone to problems like hip dysplasia. And according to PetMD, larger breeds tend to have more health problems and lead shorter lives.
Your budget: Vet bills tend to come up unexpectedly, and they can quickly add up to hundreds to thousands of dollars. Unless you have plenty of savings you're prepared to spend on your pet whenever they get injured or sick, pet insurance can provide some much-needed peace of mind.
How to get pet insurance
Compare your coverage options and get a pet insurance quote online. Or call 1-877-298-0639 to speak with a licensed representative.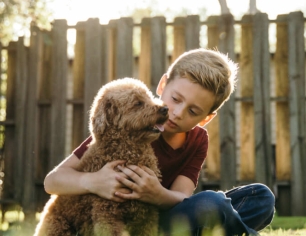 Get a quote for pet health insurance today