What are the different types of car titles?
Yes, there are more than a dozen different car title types. The most common types of vehicle titles are "clear" (no loans or liens against them), "lienholder" (you're financing a car and the lender is listed on the title), and "electronic" (in states moving to paperless title systems). Other less common types are used for importing and exporting vehicles, manufacturing and sales, and cars that are not in normal working order.
4 min to read
What are the most common types of car titles?
There are three types of car titles that most drivers will encounter, clear/clean title, lienholder title and electronic title.
Clear/clean
A clear or clean title is issued when a vehicle doesn't have an outstanding loan on it. These terms may also refer to a vehicle that has never been declared a total loss.
Lienholder
A lienholder title, also known as a memorandum title, is issued in most states for cars with an outstanding loan. If you've financed your car, you will receive a lienholder title. Once you've paid off the loan, you can get a "clean" title to replace the lienholder title. Learn more about how to remove a lienholder from a car title.
Electronic
An electronic title is simply a paperless title that your state's department or bureau of motor vehicles (DMV or BMV) holds on your behalf. You can usually request a paper copy if you want to keep one on file. The type of vehicle title will remain the same with an electronic title, it will just be a paperless version.
Pro tip:
One of the main benefits of electronic titles is access to the Electronic Lien and Title (ELT) service, which connects state DMVs or BMVs directly with lending institutions. This makes managing and releasing liens on car titles much more efficient.
Other types of car titles
The other car title types are less commonly issued, and some are considered "brands" on an existing title. A "branded title" is essentially a subcategory of a larger title category. For example, if you own a car that's damaged in a flood with no loans on it, you'll have a "flood title," which is a "clear" title with a "flood" brand.
Titles regarding ownership issues
Affidavit title: Ownership documents are missing, so you sign a sworn statement saying you own the car.
Bonded title: Ownership documents are missing, so you pay for a security bond equal to the car's value.
Titles regarding issues with the car
Certificate of destruction: Used when an insurance company takes possession of a car that they intend to scrap at a junkyard.
Flood/water damage title: Issued for a car that was totaled due to significant water damage.
Junk title: Issued for a car sold to a junkyard (may be scrapped or dismantled for parts).
Lemon title: Issued for a car with a mechanical or manufacturing defect that can't be fixed.
Odometer rollback title: Applies to a car that had its odometer reading illegally changed to show less mileage.
Parts only title: When a car will be dismantled for its parts.
Rebuilt/reconstructed title: Issued for previously damaged vehicles that have been repaired and made roadworthy again.
Salvage title: Typically applies to vehicles that are totaled, meaning repairs would cost more than the vehicle's actual cash value. Learn more about applying for salvage titles.
Logistical titles
Manufacturer's statement of origin: Transfers ownership from a manufacturer to a dealership.
Export title: For a car sent from the U.S. to another country.
Import title: For a car sent to the U.S. from another country.
Can I change the type of title on my car?
In some cases, yes. Once you pay off your vehicle loan, you can change your title from a lienholder title to a clean title at your local department or bureau of motor vehicles. If you're able to find the documents you need to prove vehicle ownership, you can also change an affidavit or bonded title to a clean or lienholder title at your local DMV or BMV.
If you're planning to rebuild a salvaged vehicle, you may be able to have the salvage branding removed from the title after an inspection.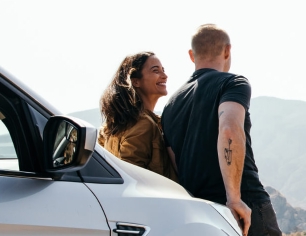 Quote car insurance online or give us a call