Should you get wedding dress insurance?
Wedding dress coverage can provide affordable protection from accidental damage and theft of your dress. For example, if you accidentally tear your dress when you're trying it on ahead of your wedding, you could be reimbursed up to the wedding dress coverage limit, providing you with funds to replace your dress. Through Progressive Wedding and Event Insurance by The Event Helper, Inc., you'll need to get a Wedding Cancellation policy and add on the optional wedding dress insurance coverage.
2 min to read
How does wedding dress insurance coverage work?
You can't typically purchase standalone wedding dress insurance, but wedding dress coverage is usually an optional add-on to a wedding insurance policy.
With Progressive Wedding and Event Insurance by The Event Helper, Inc., you can add coverage for special attire, including tuxes and wedding dresses, when you purchase a Wedding Cancellation policy. This coverage can insure your wedding dress if damage or theft occurs before your wedding day.
If you need to repair or replace your dress due to a covered circumstance, the added coverage will reimburse you up to the coverage limit you selected when purchasing. Insurers may handle this type of coverage differently, so check with yours to understand how special event insurance works.
Do I need wedding dress coverage with my travel insurance?
If you'll be traveling with your wedding dress, it's possible that your luggage could be lost or stolen in transit. Coverage through your wedding insurance might not cover losing your wedding dress. And while airlines may offer reimbursement for losing your luggage, there is a maximum compensation limit. If the cost to replace your dress would exceed the amount an airline is obligated to pay you for lost items, consider a travel insurance policy to prevent a gap in coverage.
You might also invest in a water-resistant garment bag and find out from the airline if you can carry on your dress rather than checking it to reduce the risk of it getting lost or damaged.
Questions to consider while shopping for wedding dress insurance coverage
All insurers have their own policies regarding coverage and limits, so be sure to get the following information from the wedding dress insurers you're considering:
Is there a deductible for the coverage?

Do I get to choose my wedding dress coverage limit?

Is my dress still covered if we have to postpone the wedding?

Is customer service available after hours?

Is my wedding dress covered while it's under the guardianship of someone else?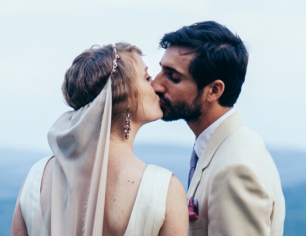 Quote event insurance for your special occasion