What is a hybrid motorcycle?
A hybrid motorcycle uses an electric motor to supplement a gasoline motor, resulting in a more efficient engine and lower running costs. Hybrid motorcycles also produce fewer emissions, making them more environmentally friendly than traditional motorcycles.
3 min to read
How does a hybrid motorcycle work?
Similar to a hybrid car, a hybrid motorcycle combines a traditional combustion engine with a small electric motor. However, you can't charge a hybrid motorcycle engine straight from a power socket like you can with a plug-in hybrid electric vehicle. Instead, the battery charges from regenerative braking or power provided by the combustion engine.
The two engines of a hybrid motorcycle work together, controlled by a computer, to power the bike using electric power when possible and the combustion engine for longer rides or when you need higher speeds.
Pros and cons of hybrid motorcycles
Pros of hybrid motorcycles
Hybrid motorcycles give off lower emissions, have improved fuel efficiency, and reduced engine noise. Hybrid motorcycles are silent when running on electric power.
Cons of hybrid motorcycles
Hybrid motorcycles have a higher initial purchase price and limited model selection. There are few hybrid motorcycles on the market today, as the challenges of incorporating two motors into a vehicle the size of a motorcycle have made it difficult and expensive to achieve. Instead, manufacturers interested in green, renewable, or high-efficiency options have been more likely to explore all-electric motorcycles than hybrid electric motorcycles.
Should you buy a hybrid motorcycle?
Hybrid motorcycles represent a transitional solution between traditional and all-electric bikes. It can be a good motorcycle for commuters, who usually ride in the city but occasionally take longer trips since hybrid motorcycles can offer a compromise of fuel efficiency in town and refueling convenience when traveling with a touring motorcycle.
Learn more about buying a new vs. used motorcycle and how to buy the best motorcycle for beginners.
How to get insurance for your hybrid motorcycle
Online
Answer easy questions, choose your coverages, and get the protection you need.
Get a motorcycle insurance quote
Call a rep
Speak with a licensed representative who will help you through the entire process.
Call 1-866-749-7436
Through an agent
Get expert advice from a licensed independent agent near you.
Find an agent online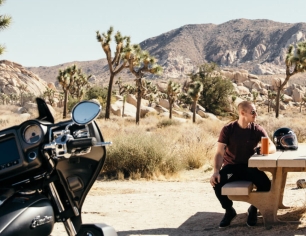 Enjoy life on two wheels with motorcycle insurance from Progressive