What does "certified pre-owned" (CPO) mean?
A certified pre-owned (CPO) car is a used vehicle that's been thoroughly inspected and repaired as needed. The manufacturer's or dealer's warranty may also back it up, depending on their CPO program. The added work to qualify a CPO can result in a significant price increase compared to other used cars.
3 min to read
What is a certified pre-owned car?
A CPO is a used car that the manufacturer or dealer backs via its CPO program. Each company has different requirements for qualifying a CPO vehicle, including mileage and condition. Manufacturer-backed CPO vehicles may include an extended manufacturer's warranty. If you're interested in purchasing a certified pre-owned vehicle, check whether it's manufacturer- or dealer-backed, and what their particular CPO program includes.
Certified pre-owned vs. used cars
Certified pre-owned cars are used cars, but not all used cars for sale are CPO. A mechanic has thoroughly inspected a CPO vehicle and made repairs if needed. They might come with a warranty, so you'll likely pay more for a CPO-used car than a non-CPO-used car. CPO cars won't necessarily have fewer problems than other used cars, but a CPO certification can give you peace of mind that the vehicle has been inspected and comes with some guarantee.
Is there a difference between pre-owned and used vehicles?
Pre-owned cars are the same as used cars. However, if a pre-owned car is "certified" (or CPO), that car is set apart from other pre-owned or used cars as part of the dealer's or manufacturer's CPO program.
Are certified pre-owned cars worth it?
If you're buying a used car and can afford the extra cost, the peace of mind a CPO provides can be worth it. Keep in mind the following when looking at certified pre-owned cars:
More financing options: Buying a used car from a private seller often means paying for the vehicle upfront. In contrast, dealers that sell CPO cars typically offer financing and leasing options. You might also be able to find more financing options via a private lender if you're purchasing through a dealer.
Added benefits: Some CPO programs include perks like roadside assistance, travel expense reimbursement, and other benefits you wouldn't get if you purchased a non-CPO used vehicle. And if the new-to-you vehicle needs repairs or breaks down, your CPO guarantee may cover the costs, depending on your program.
Alternatives: A CPO vehicle can cost significantly more than a non-CPO used vehicle. If you find a used car from a seller you're comfortable with, you could take the used car to a trusted mechanic for a full inspection. An inspection won't give you a guarantee, but it might alleviate your concerns without adding the cost of a CPO.
How to insure your certified pre-owned or used car with Progressive
Go online
We ask easy questions, and you customize your coverages.
Get a car insurance quote
Call a rep
Talk with a licensed representative who can guide you through the process.
Call 1-866-749-7436
Through an agent
Connect with an independent agent in your area.
Find an agent online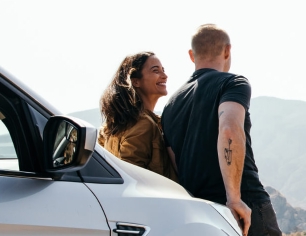 Quote car insurance online or give us a call