What is MSRP on a car?
A car's MSRP is the manufacturer's suggested retail price. A vehicle's MSRP is based on the specific factory options it comes with. MSRP is displayed on the federally required Monroney label (or window sticker) of a car that's for sale. However, MSRP is just one part of a car's "sticker price." The total sticker price, also displayed on the Monroney label, will include the MSRP, destination fee, and any applicable Gas Guzzler Tax. Dealers don't have to stick to the MSRP or sticker price when selling a car — they just have to display it.
3 min to read
Does MSRP include taxes?
No, MSRP is the manufacturer's suggested retail price before any applicable taxes like Gas Guzzler Tax, sales tax, and fees. Remember to factor in all taxes and fees when estimating the total cost of your vehicle.
What's the difference between an invoice and MSRP?
The car invoice refers to the amount the dealer paid the manufacturer for the vehicle. MSRP is the manufacturer's suggested retail price for the final customer. When selling a car, the dealer might be willing to negotiate down from the MSRP, but they likely won't want to sell it for less than the invoice amount — that would mean they'd lose money on the sale of that vehicle.
When you're buying a car, finding out the invoice amount can be helpful in your negotiations. If the invoice amount is less than the MSRP (it usually is), you might aim for a price somewhere between the dealer invoice amount and the MSRP. That way, the dealer would make some money on the sale, and you would be paying less than MSRP. Keep in mind that the final cost of your vehicle will depend on demand and negotiations.
Can you negotiate MSRP?
Yes, MSRP is often thought of as a starting point for negotiating the best deal on a car. Trying to negotiate your car price is common practice and expected. But if demand is high for your vehicle, there may not be as much potential to negotiate on price. If you have trouble negotiating down from MSRP, consider comparing prices at another dealer.
Should you pay MSRP for a new car?
When buying a new car, it's not always possible to negotiate down from MSRP. Here are some circumstances that might lead to you paying at least MSRP for a new car:
If the car is in high demand
If you're shopping in a location without much competition
If you're purchasing a highly anticipated car released in the past few months
If a car is selling out as soon as it comes into stock
If you're looking for hard-to-find features of a specific car make and model
If the dealer has non-negotiable policies that dictate when they charge MSRP
There's nothing wrong with paying full price for a new car, especially if you've compared dealers, the car meets all your needs, and you can afford it. If you're looking for something on a tighter budget, consider buying a used car or looking at a common model that might have a more negotiable price. You can even shop around online via Progressive's Car Shopping Service provided by TrueCar. You'll be able to compare prices and get offers from local certified dealers before visiting a dealership.
How to insure your new car with Progressive
Go online
We ask easy questions, and you customize your coverages.
Get a car insurance quote
Call a rep
Talk with a licensed representative who can guide you through the process.
Call 1-866-749-7436
Through an agent
Connect with an independent agent in your area.
Find an agent online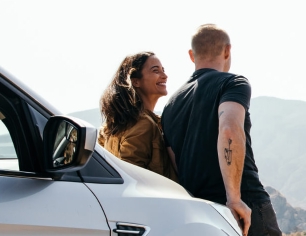 Quote car insurance online or give us a call