What qualities do the best road trip cars have?
The best vehicle for cross-country road trips, hands down, needs comfortable seats. Ultimately, the best road trip cars have a great combination of safety and comfort features and can take some of the effort out of traveling long distances. The best cars for road trips and camping will have a good towing capacity, extra cargo space, or plenty of room to accommodate an air mattress in the back.
3 min to read
What do the best cars for road trips have in common?
Whether it's just you, one passenger, or a whole family, there are some qualities the best road trip cars of all time may share. No car will check all these boxes, and some items may be more important to you than others.
Safety
So many amazing driver assistance technologies like the following have arrived recently to make your ride safer:
Forward-collision warnings and automated braking
A rear-view camera and rear cross-traffic warnings
Blind-spot warning systems and intervention
Lane departure warnings, lane centering, and lane-keeping assistance
Effort
Driving long distances is not a passive activity. Features like these may help reduce the effort of driving:
Adaptive cruise control
Proper steering alignment
Good aerodynamics
Experience
Certain vehicle features and amenities can make a long drive more comfortable, including:
Silent sealed cabin
Comfortable seats
Space (seating, but cargo space is important, too!)
Smooth suspension
Entertainment/infotainment systems
Built-in car navigation app
Safety communication services
What attributes should the best car for cross-country road trips have?
The items listed above may apply to any car with any number of people riding in it. If you're planning a family vacation or multiple nights under the stars, you might want specific vehicle attributes such as comfort for long trips, enough room for you to sleep in, and ability to travel long distances.
Comfortable cars for long trips with the family
In addition to the features above, the following may interest you if you're traveling with a larger group of people.
Third-row seating
The spaciousness of second and third-row seating
Individually adjustable second-row seats
Separate rear entertainment systems
Intercom system
Power outlets
Wi-Fi hotspot
Best road trip vehicle to sleep in
You might think that vans, SUVs, and crossovers are your best bet — and they're certainly great options — but some larger hatchbacks have fold-down rear seats that can make for a good sleeping space. Some trucks also offer tent options that you can erect over the bed of your truck. You may also consider the towing capacity of your car if you plan to use a trailer to spend the night.
Best car for traveling long distances
If you're thinking about driving a muscle car or sports car when you hit the road, responsiveness is the key to your driving pleasure. Steering, handling, engine power, and torque are all attributes you'll highly value.
What should I do to prepare my car for a long trip?
The checklist to get your car ready for a long trip is very much like a routine maintenance checkup list, such as checking or changing the oil and other fluids, replacing windshield wipers, and checking the air pressure in your tires. You can do many of the items yourself, but a couple of them may be done more easily by a qualified mechanic.
One final tip since you'll be spending so much time in your car. Start fresh – literally – and give the inside of your car a thorough cleaning before you hit the road. Wipe down the seats, vacuum the floors, and wash the insides of the windows.
Get the right coverage for your car with Progressive
Current Progressive customers
You can log in or call 1-866-749-7436 to check on your coverages.
New Progressive customers
Quote auto insurance online or call 1-866-749-7436 to insure your car.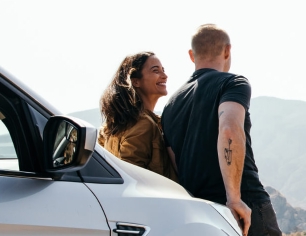 Quote car insurance online or give us a call