How does a GPS navigation system for cars work?
Navigation systems use the Global Navigation Satellite System (GNSS) network to pinpoint the location of your car anywhere on the globe. The system in your car communicates with these satellites via microwaves and displays the vehicle's location on a local map. Your location can then be monitored as a vehicle moves, displayed in relation to nearby landmarks such as hotels, gas stations, or restaurants, or used to calculate routes to destinations.
3 min to read
Can I add navigation to my car?
Technology has improved over the past 20 years, and the accessibility of GPS (Global Positioning System) navigation systems for cars is a prime example. While navigation systems for cars come standard on most new vehicles, they can also be installed aftermarket or purchased as portable units. Learn more about buying a new car.
While factory-installed units are integrated in the vehicle's dashboard systems, there are also windshield-mounted units. You can use a GPS-enabled smartphone, which works the same way, as a reliable substitute. These systems cost nothing to use and can help you find your way the next time you get lost or travel in unfamiliar territory.
Does car navigation cost monthly?
Navigation systems that do not come standard in a vehicle may involve a one-time fee for purchase as well as the cost for installation. The same is true when you have installed an aftermarket car safety system or purchased as a portable system.
However, once you purchase a car navigation system, there is no monthly fee to use it. The U.S. government owns the GNSS on which GPS navigation systems rely, so there is no monthly charge for using it. Some older systems required users to pay for software updates to display new roads and landmark information, but modern systems typically update automatically.
Is it worth getting a navigation system in a car?
While many people today utilize their smartphones to find their way around, sometimes it's helpful to have a dedicated unit to help you navigate. Here are a few times when a navigation system is valuable.
You move to a new area
When you relocate to a new area, learning the local roads and your regular routes can take a while. A navigation system can help you learn the area until you get your bearings.
You're a new driver
Getting lost can be stressful and make a new driver flustered — and that's when accidents happen. A navigation system can keep you from worrying about where you're going while building your confidence behind the wheel. Learn what to do after a car accident.
You regularly drive to new areas for appointments
If you're venturing into areas that you aren't familiar with, a navigation system can keep you from having to worry about not recognizing the roads or route you're traveling.
You're employed with a rideshare app
Driving for a rideshare app can be a good way to make money, but it often requires going to places you aren't familiar with. A navigation system can help you pick up riders and find the best route. Learn more about rideshare coverage.
You live in an area with frequent road closures
Most car navigation systems don't often update with traffic patterns or road closures, but having one in your vehicle can help you find routes around any closures or slowdowns.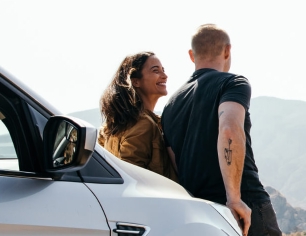 Quote car insurance online or give us a call