What's the best RV for cold weather?
The best cold weather RV trailers and motorhomes have features that help you stay warm, comfortable, and safe in winter, including good insulation, solutions to prevent frozen plumbing, and robust heating options. Choosing the best cold weather RV trailer or motorhome requires balancing your budget and the four-season features of your rig.
4 min to read
How do you choose the best RVs for winter camping?
Most RVs aren't built to the same weather-resistant standards as a house, and even the best winter RV trailers and motorhomes have to make some sacrifices for mobility. Ultimately, winter camping is about managing temperatures inside and outside the RV so you can stay warm inside all winter long.
Insulation
Insulation is key to maintaining a safe, comfortable temperature inside without wasting gas or electric power, especially if you'll spend any time boondocking. Look at the RV's insulation rating (often called an "R-value") and find out what kind of insulation it has. The higher the R-value, the better your RV retains heat.
Most RVs use fiberglass, spray foam, or rigid foam. Fiberglass insulates best but doesn't last as long as foam. Spray foam insulates the least amount and may not be the best choice for a four-season RV. Rigid foam can be a good compromise, especially if you expect the RV to be exposed to moisture (which shortens the lifespan of fiberglass insulation).
If you expect to be in really extreme temperatures and can handle relatively frequent insulation replacement, fiberglass may be the way to go. Learn more about the best RVs for boondocking.
Pro tip:
While all RVs have some degree of insulation inside the walls, not all are well-insulated on the top and bottom. The best RVs for cold weather are insulated all the way around. Some even come with insulating wraps called "RV skirts" that you can install while you're parked to further protect the RV from cold weather.
Four-season window treatments
Windows can also contribute to heat loss in an RV. The best winter RVs have double pane windows, which contain an air cushion between two pieces of glass to minimize heat bleed. The downside is that they may eventually develop fogging as the gas escapes over time. As a result, double pane windows need to be repaired more often than single pane windows, and the repairs tend to be more expensive. If you opt for single-pane windows, consider adding insulation such as window plastic before you hit cold weather.
Cold-resistant plumbing
When temperatures drop, water can freeze inside your plumbing if it isn't adequately insulated against cold weather. The resulting problems range from inconveniences (water doesn't come out of the tap) to potentially expensive repairs or replacements for pumps or plumbing components. The best RVs for winter camping have heated hoses, insulated water tank enclosures, and dedicated heating for plumbing components.
Sufficient heating
Heating — for both furnaces and water boilers — is usually measured in BTUs. A furnace with a higher BTU rating generates more heat. However, that doesn't tell a full story because heating requirements depend on the RV size or type. To compare heating accurately between two RVs, look at BTUs per square foot. According to MortonsOnTheMove.com, the best RVs for winter weather will have 45 or more BTUs per square foot.
In addition to a sufficiently powerful RV furnace, winter RVers may want to consider a tankless water heater. Unlike a boiler, a tankless water heater heats water on demand, ensuring you never run out of hot water and reducing your energy expenditure.
Other considerations for choosing the best cold weather RV trailer
Unfortunately, many of the features that make the best RVs for cold weather also increase the cost of the RV. Some features are more recent developments, too, so buying a used RV for cold weather may not be a cost-effective option depending on how cold you expect the weather to get.
If you can wait for winter camping, you may be able to add some upgrades later. Ask around about the upgrade costs of winter-ready features. You can always live full-time in your RV somewhere warm while you save for the upgrades or the winter RV of your dreams. Learn more about the best RVs for full-time living.
Found the right RV for winter camping? Insure it with Progressive
Go online
Customize your coverage to fit your RV and your unique needs.
Quote RV insurance online
Call us
Talk to a licensed representative about your coverage options.
Call 1-866-749-7436
Ask an agent
We'll connect you with a licensed, independent agent who can answer your questions about RV insurance.
Find an agent online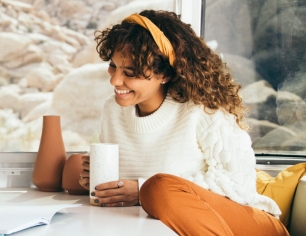 Hit the open road with RV insurance from Progressive