What's the best RV to live in year-round?
Choosing a full-time RV will come down to your personal preferences. Because you'll be spending so much time in it, you'll want one that's as cozy as a home, including all the amenities and comforts you expect. And because these factors are unique and personal, the best type of RV for full-time living will be different for everyone.
4 min to read
How do you choose the best RV for full time living?
No single RV is best for full-time living. Weighing factors like your travel style, family size, and the belongings you need to be comfortable can help determine the best RV to live in full-time for your specific circumstances. The most important question to ask when determining the best RV for full-time living is: What do you want your RV life to look like?
Consider the following questions when determining how to choose the best RV for full time living:
Are you a retiree planning to tour constantly?

Are you looking to live smaller in an RV as an alternative to a tiny house?

Are you a nomad interested in RVing to stay off the grid?
The answer to these questions can help you determine what qualities are most important in your full-time RV. Learn more about the difference between RVs vs. a tiny house and more on the best RVs for boondocking.
Considerations for choosing the best RV to live in year-round
Size and carrying capacity
There are limitations on how big an RV can be and still be roadworthy. Many campgrounds and national parks also have stringent rules about size. Smaller RVs may be better if you want the greatest flexibility for travel. However, some RVs — like truck campers — are minimal, which may limit your ability to RV in the winter or keep enough supplies on hand for longer trips.
RV size isn't just about the vehicle's length. Every RV has a Gross Vehicle Weight Rating (GVWR) — the total weight of the RV itself plus any supplies and belongings you carry. Depending on the size of your water and gas reservoirs, even a large RV may not be weighted to carry as much as you need. While you can do without lots of the comforts of home on a short vacation trip, the best RVs for full-time living will have enough carrying capacity that allow you to bring the comforts of home you want. Learn more about the common RV types and sizes.
Towing vehicles, supply runs, and driver confidence
RVs fall into two major categories: motorhomes and travel trailers. Motorhomes move on their own, while trailers require a towing vehicle. They present different challenges, so the best type of RV for full-time living for you will depend partly on what you're comfortable driving.
Motorhomes can be the size of a bus and take practice to maneuver. Even small trailers hooked up to a standard-size pickup truck require practice to drive because they add length and move independently in turns. You'll also need to ensure that your towing vehicle is rated for the Gross Vehicle Weight (GVW) of your RV to avoid towing problems.
With a towable travel trailer, you can unhitch the towing vehicle to make supply runs or day trips. If you have a motorhome, you'll either have to drive the motorhome when you need supplies, or you'll need to tow a car to use for excursions.
Family size and entertaining
How many people will be living in the RV? If you're RVing with family full time while working from the road, you may want a floorplan with separate spaces where you can work and play. If you're traveling alone or RVing as a couple, distinct spaces may be less important. Learn more about the best RVs for families and the best RVs for couples.
Travel habits
If you change locations frequently, the best RV for full-time living might be a motorhome – it's typically more convenient than a trailer, which usually takes longer to pack up. If you or your family take frequent breaks, a motorhome lets you pull off the road anywhere to access the bathroom — even if there's no gas station or other services available.
Budget
The best RV for full-time living is one you can afford without worry. When setting your budget, consider how much you can spend upfront and how much you can afford for running costs like campground fees, full-time RV insurance, and fuel.
If you don't already have an adequate pickup truck or tow vehicle, include that in your up-front costs. If you can't afford a new RV with the features or size you need, you may be able to buy a used RV and make upgrades or changes to make it more suitable for you.
Online
We'll ask about your RV and desired coverages, so you can get the right policy for you.
Get an RV insurance quote
Call a rep
You'll speak with a licensed representative who can help customize your quote.
Call 1-866-749-7436
Through an agent
If you want local advice, we'll connect you with a licensed, independent agent near you.
Find an agent online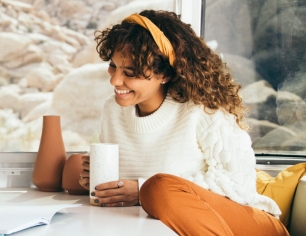 Hit the open road with RV insurance from Progressive