How to buy a car as a college student
You weighed the pros and cons, looked at your budget, did the research, and decided to get a car while you're in college. Depending on your circumstances, you might purchase a new or used car, or lease one. And each option has potential advantages and disadvantages. Paying for the vehicle yourself can be challenging, but student car loan programs do exist to help make things easier.
4 min to read
How can I afford a car in college?
Several factors influence if you can afford buying a car while in college. Your budget is the crucial one. Balancing employment with studies can be challenging, especially in a rigorous academic program. However, you might have work-study or local part-time opportunities from which you earn a regular income. Another consideration is how much money you've saved for a down payment, which some lenders may require. The more money you can put down initially, the smaller the loan you'll need to cover the rest.
Besides the vehicle purchase itself, you'll want to include fuel, routine maintenance, parking costs, and auto insurance premiums in your budget calculations. Use a debt-to-income ratio calculator to get the full financial picture. Some experts recommend you'll need to have a ratio under 40% in order to secure a lower interest rate for a car loan.
Are there car loans for college students?
There are student car loan programs that consider applicants' limited credit histories, short driving histories, and low incomes. Shop around for a lender and find out how each lender calculates their interest rate. Read the terms carefully – you may be able to refinance after you've graduated and built more credit history.
One of the best ways to get approved for a car loan as a student is to have a co-signer. A co-signer can be a parent, relative, or another adult with established good credit who agrees to apply for the loan with you. Be aware that if you can't repay the loan, your co-signer must pay the balance, and any delinquent loan payments could negatively affect both your credit scores. Learn more about what you can afford by using our car loan calculator.
Pro tip:
Some lenders will offer discount interest rates on auto loans for students with high grade point averages, so spending more time in the library could translate into financial benefits.
Should I lease or buy a car as a college student?
Leasing a car is essentially a long-term rental, typically around three years, with set limits on mileage and wear. While you wouldn't gain the advantages that come from car ownership, getting an affordable short-term lease might be a good option, especially in a tight car market where used car prices are high. If you choose this option, make sure you read the contract carefully and understand the fees.
Buying a new car has potential benefits. The loan for a new or used vehicle could end up costing you less overall than an equivalent lease. Ownership also allows you to maximize the car's value and you won't risk paying the penalty for excessive mileage. When you're looking into a new versus used vehicle, compare their warranties, fuel efficiencies, insurance premiums, and expected repairs or maintenance costs.
How do I choose a car as a college student?
Read reviews from respected sources. Research the car sticker price, car make and model, the resale or trade-in value, and how much repairs could end up costing, especially for a used vehicle with high mileage. Additional factors to weigh include the vehicle's safety rating and features such as collision warnings and blind-spot monitoring. Depending on the weather conditions where you're driving, 4-wheel drive or all-wheel drive might be an important consideration. Also consider buying a demo car, which may qualify for new-car rebates and special financing, which can help you save even more.
What happens if I buy a car out of state?
If you're a college student buying a car out of state, first find out about registration and car insurance requirements by state. Several states allow college students to have out-of-state vehicle registration, but the regulations vary. Your auto insurance company and the department of motor vehicles in the state where your college or university is located can help guide your situation.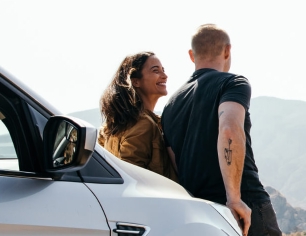 Quote car insurance online or give us a call